"She sees dead people" could be the tagline for the Britcom Marley's Ghosts, which will begin premiering on public TV stations one week from today.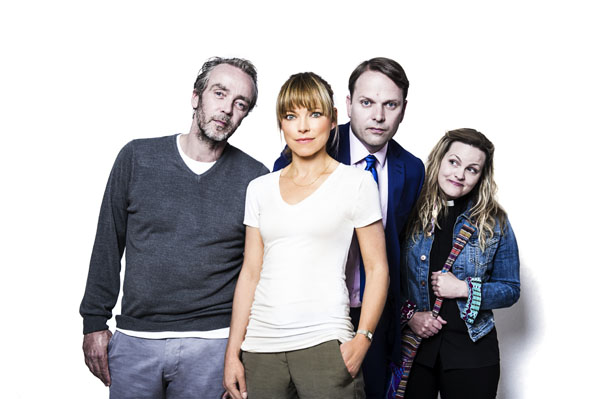 Unlike Charles Dickens' otherworldly character in A Christmas Carol, the Marley in Marley's Ghosts is alive but not so well. Like Scrooge, she's haunted by ghosts — not the spirits of Christmas Past, Present, and Future, but of her recently-deceased husband, lover, and vicar.
Marley (Sarah Alexander, Coupling, The Worst Week of My Life) is a 40-something magistrate who was having an affair with her colleague Michael (Nicholas Burns, Uncle, Benidorm) while married to Adam (John Hannah, A Touch of Cloth, Rebus). Marley and Adam's marriage had been fine until his business failed several years earlier and he fell into depression and alcoholism. His inattentiveness, public drunkenness, and drain on her income led her into the arms of Michael — pleasant and book-smart but also a bit of an idiot.
Following Adam's accidental death, Marley sees his apparition at his funeral, which is officiated by the rather clueless vicar (Jo Joyner, EastEnders, Ordinary Lies). Not only does she see him, she speaks with him, as well. Ditto with Michael and the vicar, who meet their demise mere hours later.
Now Marley has a house full of ghosts that only she can see and talk to. Ghosts that won't leave — Adam because, dead or not, he's still her husband; Michael because, dead or not, he still loves her; and the vicar because she likes Marley's home and has nothing better to do.
What would Marley's neighbor, Tina (Mina Anwar, In the Club, The Thin Blue Line), think if she knew she was living across the street from a haunted house?
In Series 2 Marley moves to a new home in a new neighborhood… with the ghosts of Adam, Michael, and the vicar moving in, too, and continuing to cause all kinds of havoc on her life.
The second season also features several guest stars, including Elizabeth Berrington (Stella), Sarah Hadland (Miranda), Jim Howick (Loaded), Bruce Mackinnon (Episodes), Phillip Rhys (Survivors), and Stewart Wright (Doc Martin).
Marley's Ghosts: Series 1 & 2 are confirmed for airing on the following public TV stations, starting on or after Tuesday, 1 August 2017. Check your local listings or contact the station that serves your area for broadcast dates and times.
| STATE | CITY | STATION |
| --- | --- | --- |
| CONNECTICUT | Fairfield, Hartford, New Haven, Norwich | |
| DISTRICT OF COLUMBIA | Washington, DC | |
| ILLINOIS | Chicago | |
| MARYLAND | Annapolis, Baltimore, Frederick, Hagerstown, Oakland, Salisbury | |
| MINNESOTA | Minneapolis, St. Paul | |
| MISSOURI | Columbia, Sedalia, Warrensburg | |
| MISSOURI | Kansas City | |
| NEW YORK | Binghamton, Elmira | |
| OHIO | Cincinnati | |
| RHODE ISLAND | Providence | |
| TEXAS | Austin | |
| TEXAS | Dallas | |
| VIRGINIA | Charlottesville, Richmond | |
| WISCONSIN | Milwaukee | |
| WYOMING | Casper-Riverton, Lander | |
__________________

Add your comments on our Facebook and Twitter pages.

Share this post/page.

Marley's Ghosts: Fantasy Comedy Series to Air in the US on Public TV Stations