Sherlock Holmes, the most famous fictional detective in the world, inspired more than fans donning deerstalker caps, Inverness capes, and Calabash pipes. Find out why a NASA scientist counts him as an influence, too, in this intriguing Canadian documentary.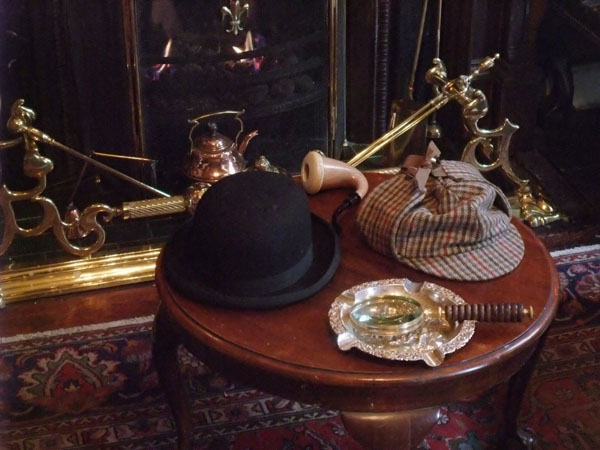 If Sir Arthur Conan Doyle were alive today, he'd probably be tickled pink to know that his "Sherlock Holmes" stories have never been out of print since he created the character in 1887, and that they are, after the Bible, "the most widely-circulated and translated books in the world."
He might also give a hearty Scottish chuckle to know that people dress up as Holmes at various fan conventions across the globe, and that today, as in the late 19th and early 20th centuries, many people think the fictional Sherlock is a real person. Said Conan Doyle, shown in archival footage in The Real Sherlock Holmes:
"I get letters addressed to him. I get letters asking for his autograph. I get letters addressed to his stupid friend Watson."
What might delight Conan Doyle the most, though, is the fact that the novel crime-solving devices and techniques he incorporated into his "Sherlock Holmes" stories — from crime scene security and fingerprint identification, to handwriting and ballistics analyses — predated their actual existence and use by police by fifteen to nearly a hundred years and helped shape modern forensic science.
Back in his day, there was no such thing as forensic science; rather, any scientific work done during criminal investigations was called "medical jurisprudence," according to E.J. Wagner, author of The Science of Sherlock Holmes. Because of his stories, Conan Doyle "helped lay the groundwork for crime scene investigation," such that "Sherlock Holmes' most critical contribution to the modern world unfolds in crime labs and morgues all over the planet."
The man who influenced Conan Doyle and served as the basis for the Holmes character was Joseph Bell, a Scottish surgeon and university lecturer who consulted for Scotland Yard on the Jack the Ripper murders. His acute sense of observation and attention to detail informed Conan's Doyle's creation of the Sherlock character, as did the scientific method in the way Holmes approached detective work.
In turn, the sphere of influence of the "Sherlock Holmes" stories extends far beyond cosplayers and producers such as Mark Gatiss, a co-creator of the hit TV series Sherlock.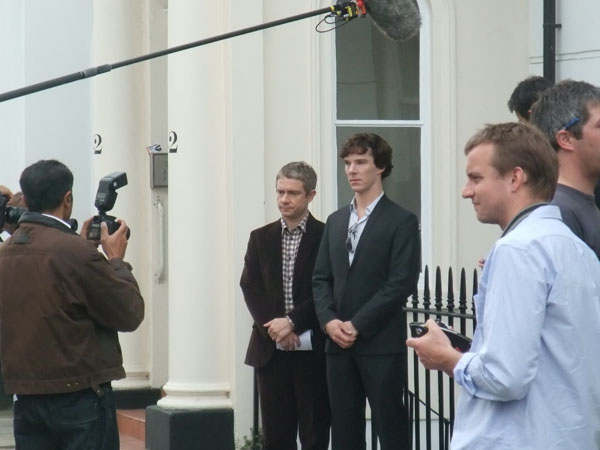 Professional criminologists have been inspired by the character and continue to use his process of gathering data and developing and testing hypotheses to support the data (rather than the inverse) to this day. One such person was Edmond Locard, a French doctor who, in the 1920s, developed the theory that "all things leave a trace" and is credited as a pioneer in forensic science. Others are contemporary scientists at the Centre of Forensic Sciences in Ontario, Canada, including Garry Lawrence of the Firearms & Toolmarks Unit, Renata Dziak of the Biology Unit, Peter Mosher of the Electronics Unit, and Jackie Osmond of the Documents unit, as well as Dr. David Fowler, Chief Medical Examiner for the State of Maryland.
Spies, undercover operatives, and intelligence analysts have also gained important insights from reading Conan Doyle's stories, owing to Holmes' ability to hide in plain sight (from his various disguises), profile criminals (based on data and deduction), and develop data-supported theories. They include Lt. Gen. Samuel Wilson (Ret.), Former Director of the US Defense Intelligence Agency; Scot Filer and Fred Pinnock, Managing Partners of Lions Gate Investigations Group; Lee Rainbow, Head of Behavioral Investigative Advice, NPIA; Ian Laverty, President of Environmental Criminology Research, Inc.; and Investigative Polygraphic Examiner Theo Hollamby.
For Dr. James B. Garvin, Chief Scientist of NASA Goddard Space Flight Center, Holmes played a role in his becoming a scientist. "Space is a Holmesian mystery that needs to be solved," and like murders and other crimes, understanding the moon, planets, and outer space requires gathering data first and developing theories second. Just like Sherlock did.
Additional interviewees in The Real Sherlock Holmes, who provide insights about Holmes and the character's impact on the world, include Marvin Minsky, Professor of Media Arts & Sciences at MIT; Steven Doyle, author of Sherlock Holmes for Dummies; author and critic Scott Brown, and writers/broadcasters Matthew Sweet and Nicholas Utechin, the latter of the Sherlock Holmes Society of London.
The Real Sherlock Holmes is confirmed for airing on the following public TV stations on or after 30 June 2017. Check your local listings or contact the station that serves your area for air dates and times.
| STATE | CITY | STATION |
| --- | --- | --- |
| ARIZONA | Phoenix | |
| ARIZONA | Tucson | |
| CALIFORNIA | Monterey, Salinas, San Francisco, San Jose, Watsonville | |
| GEORGIA | Albany, Athens, Augusta, Chatsworth, Cochran, Columbus, Dawson, Macon, Pelham, Savannah, Waycross, Wrens | |
| HAWAII | Honolulu, Wailuku | |
| KENTUCKY | Ashland, Bowling Green, Concinnati/Covington, Elizabethtown, Hazard, Lexington, Louisville, Madisonville, Morehead, Murray, Owensboro, Owenton, Paducah, Pikeville, Somerset | |
| MARYLAND | Annapolis, Baltimore, Frederick, Hagerstown, Oakland, Salisbury | |
| MONTANA | Billings, Bozeman, Great Falls, Kalispell, Missoula | |
| NEW YORK | Binghamton, Elmira | |
| NEW YORK | Buffalo | |
| OHIO | Cincinnati | |
| PENNSYLVANIA | Altoona, Clearfield, Johnstown | |
| SOUTH DAKOTA | Aberdeen, Eagle Butte, Lowry, Martin, Pierre, Rapid City, Sioux Falls, Vermillion | |
| TEXAS | Austin | |
| VIRGINIA | Charlottesville, Richmond | |
__________________

Add your comments on our Facebook and Twitter pages.

Share this post/page.

The Real Sherlock Holmes: Doc about First Fictional Figure of Fandom Premieres in the US