Thousands of cheering fans greeted the two Doctor Who alums when they appeared during the annual geek-chic fandom conclave in Washington, DC, this past weekend.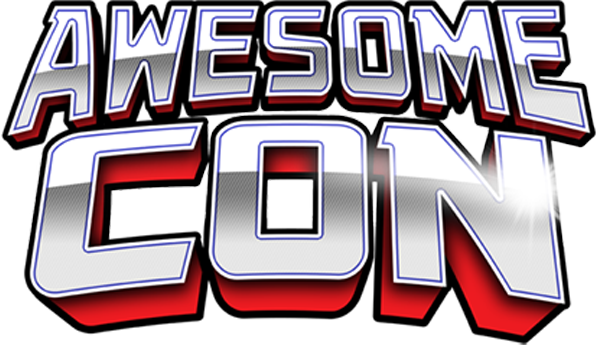 The heat and humidity were oppressive in the nation's capital during 16-18 June, but Awesome Con 2017 attendees — many dressed in their finest tricked-out cosplay outfits — arrived in droves for a weekend of comic book-, sci-fi-, and fantasy-inspired fun.
Two of the biggest draws were David Tennant and Catherine Tate, aka the Tenth Doctor and his companion Donna Noble, and Whovians of nearly every age filled the cavernous hall where the Doctor Who stars appeared in separate panels.
Here are a few highlights:
DAVID TENNANT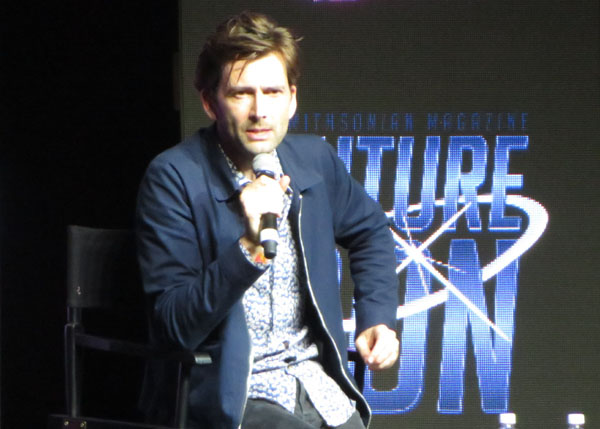 Before going into the Q&A part of the David Tennant panel, the actor chatted with two scientists — Dr. Grant Tremblay of the Harvard-Smithsonian Center for Astrophysics, and Dr. Matthew Shindell of the Smithsonian Institution's National Air & Space Museum — about the science in science fiction and the wibbly wobbly, timey wimey stuff of time travel, amongst other Future Con topics.
Once the Q&A got underway, two of the youngest attendees made their way to or near the microphone. The first was a young lad dressed and speaking as the "Are you my mummy" boy (from "The Empty Child"), and the second was a wee bairn in an Adipose costume (from "Partners in Crime"). I wish I had pictures for you, because they were adorable.
David Tennant quotes and such:
"David Morrissey does not like to be led." — In response to a question about Blackpool, the musical crime dramedy-mystery series in which Tennant, Morrissey (The Missing, The Walking Dead), and other cast members sang and danced various parts of the narrative.
"You can't research being a time lord." — As regards preparing for his roles, such as the Doctor.
"There's a lot of words." — His (joke of a) reason for why Hamlet is his most challenging role in a Shakespeare play.
"I'm just behind the ice ridge." — Another comical answer, this one about Tennant's narration of the nature documentary Penguins: Spy in the Huddle.
And last but not least…
"Don't be late. Learn your lines. And don't be an arsehole." — David Tennant's actual advice for aspiring actors.
CATHERINE TATE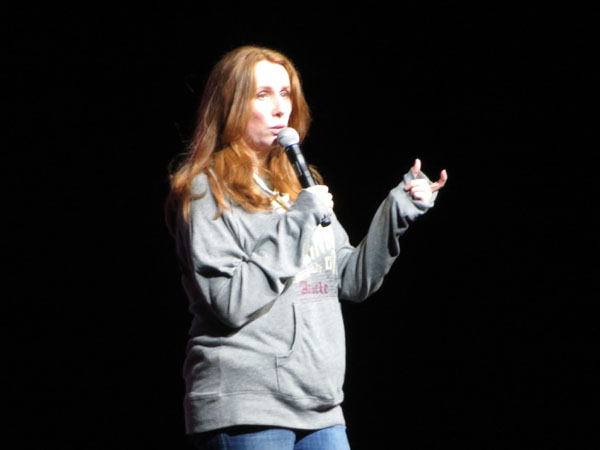 If I'd had access to the TARDIS, I would have been on time to the Catherine Tate session and heard her chat with panel moderator Kristen Page-Kirby of The Washington Post. Alas, I did not, and the Q&A session was already underway when I arrived. Despite not knowing what I missed during the first ten minutes or so, I still say this was one of the best Awesome Con Doctor Who-related panels I've ever attended.
There were quite a few theatre buffs in the audience, and one question prompted Tate to share about her "most terrifying [acting] experience": the Cirque du Soleil-esque high-wire bit (an idea she came up with) in Shakespeare's Much Ado About Nothing, in which Tate played Beatrice to David Tennant's Benedick at the Wyndham Theatre in London's West End back in September 2011.
And there were also fans aplenty of The Catherine Tate Show, the multiple award-winning sketch comedy series that features the iconic Lauren Cooper, the "Am I bovvered?" teenager of whom Tate stated, "Lauren was straight up me… no, she wasn't," when asked about inspiration for the shows' characters. She added:
"I think the Lauren character walks among us… It's just a privilege of youth, I suppose, that they get the badge of insolence and incredulity… I think teenagers are just a little bit 'I don't care, I'm not bothered, so you can't embarrass me or anything like that,' cos they're so, so prime for embarrassment. And I think that definitely was me, but I would never have been so bold to be that rude and belligerent. But my daughter is, so that's nice."
Speaking of Shakespeare, David Tennant, and Lauren Cooper, another audience member asked Tate to recite the sonnet from the special skit the actors did for Comic Relief's 2007 Red Nose Day, the annual charity fund-raising event in the UK. "Ooh, can she remember it," Tate mused for a moment before launching into it.
Note: If you're ever in the audience when Catherine Tate is performing live, stay in your seat until she's done, lest you, like one Awesome Con attendee, be caught on camera while Tate (jokingly) chides you with, "Where do you think you're going? I'm doing a sonnet!"
When Tate attended the Central School of Speech and Drama, Oscar® nominee and BAFTA Award winner Imelda Staunton (Vera Drake, Harry Potter and the Order of the Phoenix) shared a bit of encouragement with the students during a talk at the acting school. According to Tate, it went something like this: "There'll come a time where you think it's not going to happen for you, and what you have to remember is, it's someone else's time and your time will come."
For Tate, those words rang in her ears and served as a career- and life-changing catalyst:
"You can get crises of confidence, everyone does. You know, it's hard to keep the faith… I remember thinking, 'I don't know if it's going to happen for me,' and that, what switched it for me was, I started writing my own stuff and creating my own work, because then you're in control."
Catherine Tate quotes and such:
"You can't make people like your stuff… What you have to do is do the very best you can, believe in what it is, have faith in what you do, and put it out there." — Her advice to actors (and everyone else, really), despite what internet trolls might say.
"What other people say about me is none of my business." — Catherine Tate's philosophy
"Donna and the Doctor: The Lost Adventure" — Tate's off-the-cuff title of an as-yet unwritten Doctor Who story that takes place between the regeneration of the Tenth and Eleventh Doctor.
"Chris Eccleston & Donna together? They would get nothing done! There'd be too much arguing!" — As regards another actor who played the Time Lord that she would have liked to have worked with.
"I didn't watch it, mate… The one with the white hair? … The one with the scarf?" — See above, but with regard to a Doctor Who lead actor during its pre-reboot seasons.
"Miguel! … Thank you!" — Catherine on a mobile phone video call with an attendee's husband, an active duty member of the US military who thinks Donna Noble is the best companion.
See you at Awesome Con 2018!
__________________

Add your comments on our Facebook and Twitter pages.

Share this post/page.

David Tennant & Catherine Tate Allons-Y'ed to Awesome Con 2017