There's a new doctor in town in The Heart Guy, the latest hit from Down Under to premiere in North America.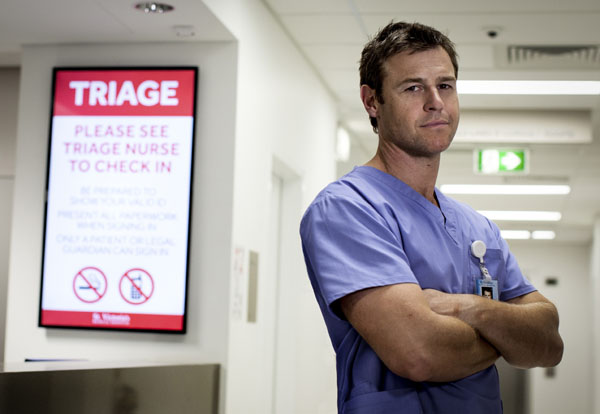 The Heart Guy (aka Doctor Doctor) could very well become your next favorite binge series from Australia.
Rodger Corser (The Doctor Blake Mysteries, Glitch, Rush) stars as Hugh Knight, a talented heart surgeon whose hedonistic lifestyle lands him in serious trouble after a night of booze- and drug-filled partying.
Rather than banning him from medicine altogether, the Medical Tribunal strikes him off from surgical practice for a year. Their salt on the wound for Hugh's "year of atonement" is making him work as a general practitioner, not in the big city of Sydney where he lives but out in the country, in Whyhope, which happens to be his hometown.
Ah, Whyhope. Home of Hugh's estranged family, including his parents, the gruff Jim (Steve Bisley, Water Rats) and the politically-minded Meryl (Tina Bursill, Home and Away), who live on their farm with adopted teen-aged son Ajax (Matt Castley, Blind); his jealous brother Matt (Ryan Johnson, Out of the Blue), who runs the brewery that saved the farm; and his ex-girlfriend Charlie (Nicole da Silva, Wentworth, Rush), who is now his newlywed sister-in-law.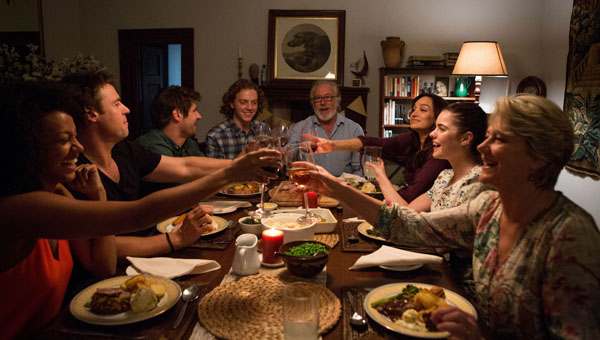 It is here that Hugh is obliged to learn and dispense medical treatment, outback style, at the under-resourced Whyhope Hospital. Goodbye scalpels and listening to "Heart of Glass" in the operating room; hello anti-venom and working with quirky locals and an ex-pat from Ireland to tend to oddball patients at the office, on a farm, or in a paddock full of explosive booby traps.
Not so much quirky as humorless is Penny (Hayley McElhinney, The Babadook, Sea Princesses), Hugh's new boss and urine-sample tester, and the person who holds what remains of his career in her hands.
No one but Penny, the members of the Medical Tribunal, and Hugh know the real reason he's back in Whyhope. Everyone else thinks he's on a sabbatical and working at the hospital to give back to the community.
Lie #1.
Yes, there are more.
Insults, too.
And there are truths, such as the cancer that is killing one of Hugh's old friends, and that, try as he might, Hugh cannot save everyone's lives.
The series' first season features Chloe Bayliss (Reef Doctors), Belinda Bromilow (Packed to the Rafters), Shalom Brune-Franklin (Thor: Ragnarok), Charles Wu (Secret City), Lucy Durack (The Moodys), Winta McGrath (Boys in the Trees), and Dave Eastgate (Soul Mates). A second season has been commissioned.
The big city doc in small town theme makes comparisons between The Heart Guy and Doc Martin almost inevitable, especially when there are other similarities based on generalities, including an insufferable lead character, quirky supporting characters, a will-they-or-won't-they relationship drama, and gorgeous scenery.
That said, though, there are more than character, storyline, and setting details that set The Heart Guy apart. Call it bad-ass-ness.
The Heart Guy: Series 1 premieres in the US with Episodes 1 and 2 on Monday, 5 June 2017, exclusively on Acorn TV.
__________________

Add your comments on our Facebook and Twitter pages.

Share this post/page.

The Heart Guy: Meet New Australian Drama's Bad Boy of Medicine