Our favorite nurses and nuns will have more babies to deliver and more personal dramas to deal with when Call the Midwife returns this year and next!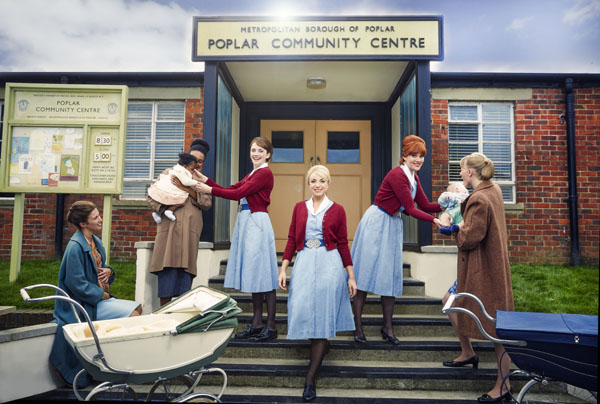 Created and written by two-time Emmy® Award nominee Heidi Thomas (Upstairs Downstairs, Cranford), Call the Midwife, the critically-acclaimed, multiple award-winning drama — recently voted the Best Drama of the 21st Century in the BFI & Radio Times Festival Audience Poll — will be back on PBS in late 2017 with a new holiday special and in spring 2018 with Season 7.
Christmas Special
The winter of 1963 sees temperatures plunging to a record low, bringing the whole country to a standstill due to the severe weather. Poplar is under a thick blanket of snow, forcing the midwives to battle the elements, power cuts, and frozen pipes as they strive to provide the best possible care for their patients.
Valerie (Jennifer Kirby, Holby City) helps a young couple, newly arrived in London, who experience a traumatic birth, and Sister Julienne (Jenny Agutter, MI-5) tries to reunite a family torn apart by a tormenting father. Anita Dobson (EastEnders) guest stars as Mabel.
Season 7
The upcoming season begins with the nuns and nurses being tested as they have never been before, both personally and professionally. All around them they see the old East End vanishing, as slum clearances make way for bold new tower blocks to accommodate expanding communities.
Their work brings them into contact with a wide range of challenges, from leprosy, tokophobia and stroke, to Huntington's chorea, cataracts and unmarried mothers.
Trixie's (Helen George, The Three Musketeers) romance with Christopher (Jack Hawkins, Henry and Anne: The Lovers Who Changed History) continues to develop, while Barbara (Charlotte Ritchie, Fresh Meat) and Tom (Jack Ashton, Vicious) enjoy life as a married couple. Nurse Crane (Linda Bassett, Lark Rise to Candleford) finds her authority questioned from an unexpected quarter, and Sister Monica Joan (Judy Parfitt, Little Dorrit) is forced to accept her failing faculties. And life for the Turners is turned upside down when Shelagh (Laura Main, The Mill) decides to employ an au pair.
Joining the cast in Season 7 is Leonie Elliott (Danny and the Human Zoo, Black Mirror), who plays Nurse Lucille Anderson, the first West Indian midwife to be featured as a regular character in the series. Elegant, funny and clever, Nurse Lucille is swift to settle in and brings a fresh new energy to life at Nonnatus House. Through her eyes, viewers explore the experiences of Caribbean nurses who went to London in the 1960s to support the growing Nonnatus House.
Other cast members reprising their roles in the series include Victoria Yeates (Holby City) as Sister Winifred, Stephen McGann (Emmerdale) as Dr. Patrick Turner, Cliff Parisi (EastEnders) as Fred, and Annabelle Apsion (Shameless) as Violet Buckle.
And in related news, the ensemble cast of Call the Midwife will be honored at the 42nd Annual Gracie Awards, which is presented by the Alliance for Women in Media Foundation and celebrates programs created for, by, and about women.
Stay tuned for updates about the Call the Midwife Christmas special and Season 7. In the meantime, catch up on the entire series, including Season 6, which just completed its run on PBS.
__________________

Add your comments on our Facebook and Twitter pages.

Share this post/page.

Call the Midwife: Hit Period Drama Returning with Christmas Special & Season 7