A holiday abroad is supposed to be full of fun and adventure. For the travelers in Gap Year, it's a little of both and a whole lot more.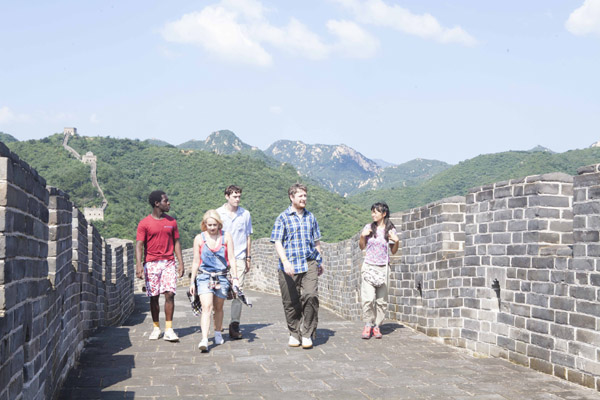 Created by Joel Wilson (The Enfield Haunting, Glue) and written by BAFTA nominee Tom Basden (Plebs, The Wrong Mans), Gap Year follows a motley group of travelers on what ends up being a three-month journey across Asia.
Best mates Sean (Adè Oyefeso, Unforgotten) and Dylan (newcomer Anders Hayward) are from England and on their "lads' holiday" in China, although Dylan has an ulterior motive for picking this country over another. Lauren (Rachel Redford, The Riot Club), a fellow student at uni and Dylan's ex-girlfriend, is also in China, but Sean doesn't know this. Yet.
Also traveling together are May (Alice Lee, Switched at Birth) and Ashley (Brittney Wilson, Rogue), two college students from America, and Greg (BAFTA nominee Tim Key, Peep Show), a rather boorish, 30(40?)-ish English bloke who latched on to and has been seeing the sights with the young women, despite their (initial) desire to be rid of him.
The two sets of backpackers meet in Beijing by happenstance (at a public toilet, no less), and after going their separate ways and later reconnecting, they end up going en masse to the Great Wall and May's cousin's wedding before leaving together for other parts of Asia.
Almost nothing goes smoothly or as expected for any of them in China. Ditto Vietnam, Thailand, Malaysia, and Nepal. West meets East culture clashes account for part of this; the rest comes down to bad choices, whether made in the past or present.
Ultimately, they all grow from this journey, although they likely could have done without some of the things they learned. Case in point: Chinese-American May discovering that locals in China regard "assimilated Asian Americans" (who don't speak the language) with disdain and refer to them derogatorily. Out loud.
Guest stars include Robert Bathhurst (Cold Feet), Aisling Bea (The Fall), Janeane Garofalo (Girlfriends' Guide to Divorce), Trystan Gravelle (Mr. Selfridge), Kelly Hu (Arrow), and Daniel Rigby (Jericho).
The series has humor and a lot more depth than I thought it would. It's worth a watch for both the story and the scenery.
Gap Year premieres in the US on Friday, 26 June 2017, exclusively on Hulu.
__________________

Add your comments on our Facebook and Twitter pages.

Share this post/page.

Gap Year: UK Dramedy Set in Asia Premiering in the US