A coroner, a Senior Crown Prosecutor, and a private detective march, I mean walk into a pub… Actually, they appear on broadcast telly in Southern and Central California in British and Aussie shows premiering on KCET.

KCET, the largest independent public television station in the country, begins airing this evening two of three new titles in its international TV lineup. Each series features a lead character who is a strong, smart, and sensitive woman with a deep sense of doing the right thing — from parenting to exposing criminals and securing justice.
The Coroner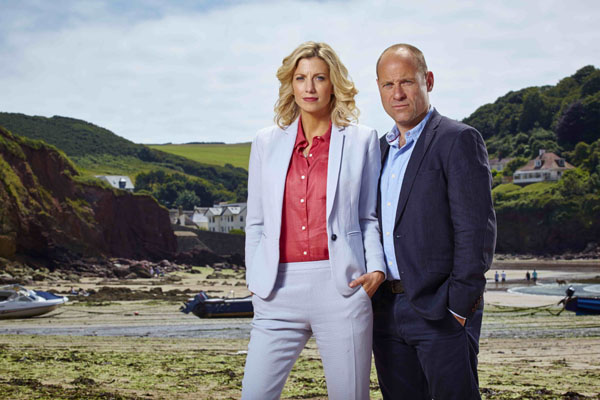 This BBC daytime drama stars Claire Goose (Waking the Dead, The Bill) as Jane Kennedy, an accomplished solicitor who, after another failed romantic relationship, pulled up stakes from London and returned to her hometown in South Devon to be the coroner.
As the coroner for the jurisdiction that includes the small (fictional) seaside town of Lighthaven, Jane investigates sudden, violent, and unexplained deaths with DS Davey Higgins (Matt Bardock, Casualty, New Blood), her now-married (and presumably faithful) childhood sweetheart and heart-breaker. They're platonic friends and colleagues, but a bit of remember-when, wink-wink sexual tension between them still arises every now and again.
Some of the deceased who land on Jane's autopsy table died in obvious ways, while others' deaths look like the result of one cause but in fact are the outcome of something else altogether. For situations where the cause of death is debatable, Jane interacts with the locals to help her determine precisely how the victim met his or her end.
Being a daytime drama in the UK, The Coroner is light on violence, rough language, and dark under- or overtones, so there's little in the way of storylines and characters that would offend one's sensibilities.
Costarring in The Coroner are Beatie Edney (Poldark) as Judith Kennedy, Jane's mum; Grace Hogg-Robinson (Doctors) as Jane's 15-year-old daughter Beth; Oliver Gomm (Hope Springs) as Coroner's Officer Clint Holman; and Ivan Kaye (Vikings) as Mick Sturrock, Judith's publican boyfriend.
KCET premieres The Coroner at 8 PM PST tonight. Click here for episode synopses and upcoming air dates and times on KCET.
Janet King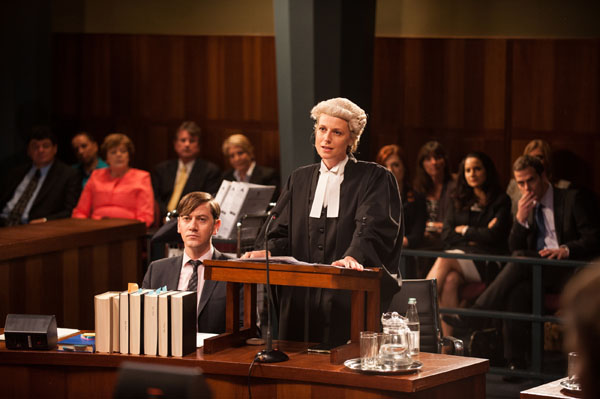 One of the best new program premieres of 2016, this Australian legal and political thriller stars Marta Dusseldorp (A Place to Call Home, Jack Irish) as the eponymous Senior Crown Prosecutor. Stateside and Californian Aussie viewers might know the character from Crownies (coming soon to the US), of which Janet King is a spin-off.
The latter series opens with Janet, a highly-regarded prosecutor and now a mum to twins with her partner Ash (Aimee Pedersen, Crownies), returning to work at the Department of Public Prosecutions from a year-long maternity leave. Not only is Janet handed someone else's case against a suspected sexual predator of young girls, she gets it on the first day of court with no preparation for it. Fast forward: she loses her first case back on the job.
Her next case is a doozy, a high-profile one against the police commissioner, charged with killing his ailing wife. When he goes missing and is later found dead, Janet's attention turns to the suspects in his murder. But nothing is as it seems, and both the case and related investigation get more tangled, ugly, and dangerous for Janet, and even her family. This plotline arcs across all eight nail-biter installments of the first season, and you shouldn't miss a single one, lest you miss key happenings in the story.
Janet King cast members include Damian Walshe-Howling (Underbelly) as Prosecutor Owen Mitchell, Vince Colosimo (The Secret Life of Us) as Chief Superintendent Jack Rizzoli, and Crownies alums Jeanette Cronin, Andrea Demetriades, Indiana Evans, Lewis Fitz-Gerald, Peter Kowitz, Hamish Michael, Christopher Morris, and Ella Scott Lynch.
KCET premieres Janet King tonight at 9 PM PST. Click here for episode synopses and upcoming air dates and times on KCET.
Miss Fisher's Murder Mysteries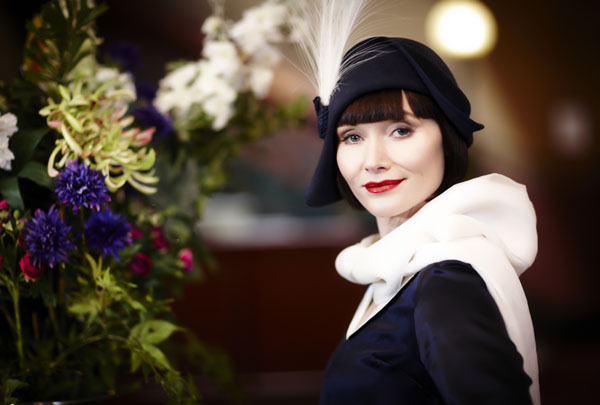 Kerry Greenwood's "Phryne Fisher Mysteries" novels and short stories are the source material for this fabulous period whodunit series, which stars Essie Davis (The White Princess, The Babadook) as the eponymous private detective — the most glamorous one ever to grace the small screen. Likely one of the wealthiest, too.
Dressed in one killer outfit after another (accessorized with a pearl-handled gold pistol), the Honourable Phryne Fisher almost always meets a man who would like to be her lover, from criminals to cops. Speaking of, the official detective for the crimes she investigates is Detective Inspector Jack Robinson (Nathan Page, Underbelly), who has a love-hate relationship with her involvement in his cases, but not with her. (Far from it.)
Phryne is smart and sexy, gutsy and gorgeous, and thoroughly modern and ahead of her time in 1920s Melbourne. And this series is as much a delight for the visual senses as it is for tickling our grey cells, with its award-winning costume designs and intricate whodunit storylines. Plus it's fun!
Also featuring in the series are Ashleigh Cummings (Gallipoli) as Phryne's companion Dot Williams, Hugo Johnstone-Burt (Home and Away) as Jack's sidekick Constable Hugh Collins, Richard Bligh (MDA) as butler Mr. Butler, and Miriam Margolyes (Harry Potter films) as Phryne's Aunt Prudence.
KCET premieres Miss Fisher's Murder Mysteries on Sunday, 5 February 2017, at 9 PM PST. Although no additional program information has been posted on the station's website yet, you'll find it here as the premiere date approaches.
__________________

Add your comments on our Facebook and Twitter pages.

Share this post/page.

Strong Women Headline KCET's Trio of International Drama Premieres