Beowulf, the highly-anticipated television adaptation of the legendary hero's story, arrives stateside on Esquire Network next month.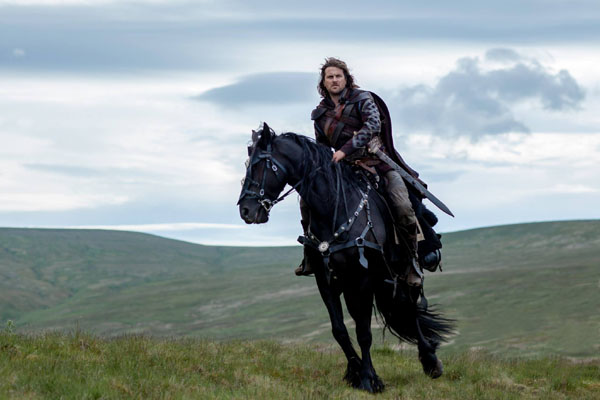 Based on the epic Anglo-Saxon poem, the longest one written in Old English before William the Conqueror's Norman invasion of 1066, Beowulf is a 13-part fantasy drama that reimagines the journey of the eponymous Scandinavian hero, played by Kieran Bew (Da Vinci's Demons, WPC 56).
Set in the Shieldlands, a mythical and dangerous place populated by humans and fantastical creatures, including the terrifying monster Grendl, Beowulf is a story about courage, greed, betrayal, revenge, loyalty, power, and love — one that explores and challenges the notions of good and evil, heroes and villains, laws and moral codes.
The opener finds Beowulf, after wandering as a mercenary warrior for 20 years, returning to his childhood home of Herot to pay his respects to Hrothgar (William Hurt, Humans, Kiss of the Spider Woman), the ailing ward and Thane of Herot, and to right past wrongs.
But his gesture of good will opens old wounds, his homecoming is not a warm one, and he must fight his way into the Great Hall to be heard by Hrothgar's wife, Rheda (Joanne Whalley, Wolf Hall, Jamaica Inn), the controversial new Thane.
Then Herot falls under attack, and Beowulf vows to rout out the enemy, deliver justice, and make Herot safe once again.
Beowulf also stars Edward Speleers (Downton Abbey), David Ajala (Black Box), Ellora Torchia (Indian Summers), Gísli Örn Garðarsson (Spooks and Spirits), Laura Donnelly (Outlander), Elliot Cowan (Da Vinci's Demons), Ian Puleston-Davies (Coronation Street), David Harewood (Homeland), Joe Sims (Broadchurch), Lee Boardman (The Interceptor), David Bradley (Broadchurch), Ace Bhatti (The Shadow Line), Gregory Fitoussi (Mr Selfridge), Susan Aderin (The Last Detective), Kirsty Oswald (Ripper Street), Edward Hogg (Indian Summers), Alex Price (Father Brown), Jack Rowan (Silent Witness), and Itoya Osagiede (Spotless).
Esquire Network premieres Beowulf on Saturday, 23 January 2016 (time TBA).
In the UK the series debuts Sunday, the 3rd of January, at 7 PM BST, on ITV.
Beowulf is created and executive produced by James Dormer (Strike Back), Tim Haines (Primeval), and Kate Newman (Primeval: New World), and produced by ITV Studios.
__________________
Add your comments on our Facebook, Google+, and Twitter pages.
Share this post/page.

Beowulf: Esquire Network Sets Premiere Date for Epic Fantasy Drama Series