ITV has announced that Anna Friel leads the star-studded ensemble cast for its new noir crime drama Marcella, penned by BAFTA-nominated Swedish writer Hans Rosenfeldt.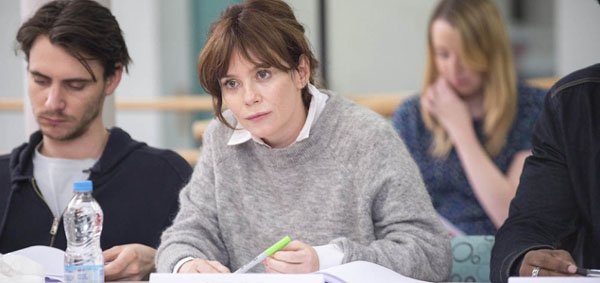 Anna Friel (The Saboteurs, Pushing Daisies) stars as the eponymous Marcella in the noir thriller from Hans Rosenfeldt, lead writer of the popular Swedish mystery series The Sandhamn Murders and creator of the multiple award-winning, international hit Swedish/Danish crime drama The Bridge.
Co-created with Nicola Larder (The Tunnel, Dracula), Marcella is Rosenfeldt's first-ever drama created specifically for the UK audience.
Said Friel about her role:
"I'm thrilled to be working on Hans Rosenfeldt's first English drama. Scandinavian storytelling is hugely inspiring but we Brits usually have to settle for doing a remake, so to be working with Hans on an original piece for ITV is a true privilege. Marcella is a complex woman and a wonderful layered character. Hans' marvellous scripts have drawn a fantastic cast and crew together. I can't wait to begin."
Also starring in the series are Laura Carmichael (Downton Abbey), Nicholas Pinnock (Fortitude), Ian Puleston-Davies (Being Human), Nina Sosanya (Last Tango in Halifax), Ray Panthaki (DCI Banks), Jamie Bamber (Law & Order: UK), Patrick Baladi (Mistresses), and Harry Lloyd (Game of Thrones).
Set in contemporary London and told in Rosenfeldt's multi-layered Nordic style, Marcella leads viewers through a narrative maze where any character could be a witness, victim, or potential suspect. The eight-part drama follows Marcella through her involvement in a serial killer case where the murderer's m.o. bears a striking resemblance to a spate of unsolved killings from a decade ago. It was at that time that Marcella had given up her fast-tracked police career to marry and devote her life to her family.
Ten years later, Marcella's life is upended when her husband Jason (Pinnock) confesses out of the blue that he no longer loves her and leaves her. Shocked and heartbroken and isolated from her 13-year-old daughter and 10-year-old son, Marcella returns to the Met's Murder Squad and throws herself into work to try to hold herself together.
She wants back in on the serial killer case she had worked on in 2005, as she has a hunch she wants to follow up on. It's the same hunch she had years ago but couldn't do anything about, given her pregnancy with her second child.
With the new set of unsolved murders, Marcella must work out whether the killer from a decade ago has reappeared or if there's a copycat killer on the loose. She's also suspicious about Jason's motives for leaving her and ends up playing detective in her off-hours, as well.
Still in a fragile and vulnerable state, Marcella's throwing herself into work may or may not provide the answers she's seeking about the case or her marriage, and could lead her into dangerous territory and even more heartache.
A production of Buccaneer Media, Marcella is executive produced by Rosenfeldt, Larder, and Buccaneer Media founder Tony Wood. Andrew Woodhead (MI-5) is the producer, and the directors are Charles Martin (New Worlds), Jonathan Teplitzky (Broadchurch), and Henrik Georgsson (Wallander).
Filming on Marcella begins this month in and around London.
__________________
Add your comments on our Facebook, Google+, and Twitter pages.
Share this post/page.

Marcella: Anna Friel Leads Cast of New Crime Drama from Hans Rosenfeldt