Say it isn't so! But alas, 'tis true, as Stephen Fry is stepping down as the host of the brilliant and gut-bustingly-funny panel show QI.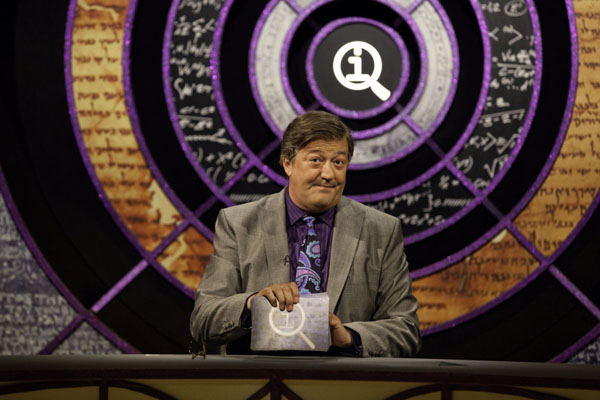 Stephen Fry has hosted more than 180 episodes of QI, the panel show in which interesting answers get (mostly comedian) celebrity panelists more points than correct ones, and boring answers cost them points, as do wrong answers, which also get the klaxon.
Along with Alan Davies, who will continue as QI's resident panelist and genial fall guy (yay!), Fry has made QI one of the most popular edutainment shows around the world, with his quick wit and effortless erudition.
Fry commented, "For 13 years I had one of the best jobs on television. Behind the camera, squadrons of quite extraordinarily brilliant researchers, programme-makers and uniquely curious (in both senses of the word) people making that job so much easier. In front of the camera, generations of lively minds and above all, of course, the wonder of nature that is Alan Davies. After passing the alphabetical halfway mark I thought it time to move on, but I will never cease to be grateful to John Lloyd for devising QI and for everyone else for making it such fun."
Taking over hosting duties will be Sandi Toksvig, OBE, the Danish-born writer, presenter, actor, and comic, who has been a QI panelist in 16 episodes to date.
Said Toksvig, "QI is my favourite television programme both to watch and to be on, so this is absolutely my dream job. (My Nordic background also makes me keen to spend time with the Elves.) Stephen has been utterly brilliant with the first half of the alphabet. Now I look forward to picking up the baton, mixing my metaphors and sailing towards the Land of Nod (ie Z). Who knows what lies ahead? It should all be quite interesting."
Fry's final series as host of QI is the upcoming "M" series, which begins this Friday, 16 October 2015, at 10 PM BST, on BBC Two.
The star-studded panel includes Bill Bailey, Matt Lucas, Jo Brand, Romesh Ranganathan, Sheila Hancock, Jimmy Carr, Jeremy Clarkson, Sami Shah, Eddie Kadi, Sarah Millican, Sue Perkins, Noel Fielding, Sara Pascoe, Johnny Vegas, Julia Zemiro, Josh Widdicombe, Sara Cox, Rhod Gilbert, Phill Jupitus, David Mitchell, Lucy Porter, Ross Noble, Danny Bhoy, Aisling Bea, Susan Calman, Greg Davies, Chris Addison, Cariad Lloyd, James Acaster, Tommy Tiernan, Dermot O'Leary, Jenny Eclair, and, of course, Sandi Toksvig.
__________________
Add your comments on our Facebook, Google+, and Twitter pages.
Share this post/page.

Stephen Fry Bids Adieu as Host of QI