If you're bubbling over with excitement about the new series of Miss Fisher's Murder Mysteries premiering in the US, join the club!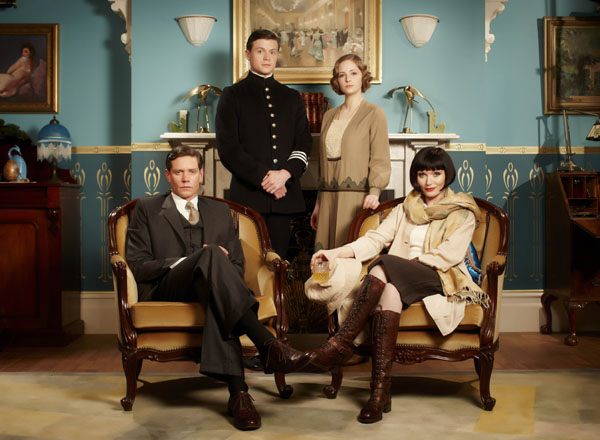 Miss Fisher's Murder Mysteries, the delightful Australian series that has taken the world by storm, is returning to the US to thrill us with its third series. (Yay!)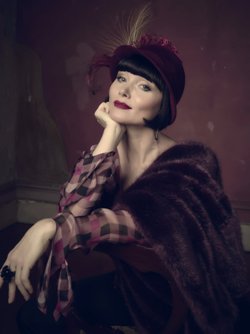 And you know what that means: more of Essie Davis as the Honourable Miss Phryne Fisher — independent and glamourous as all get-out with her fabulous fashions, pearl-handled gold pistol, and sense of adventure — attending soirées, attracting admirers, and, of course, solving murder mysteries in late 1920s Melbourne.
Also reprising their roles for Series 3 are Nathan Page as Detective Inspector John Robinson, Ashleigh Cummings as Miss Fisher's maid and companion Dorothy 'Dot' Williams, and Hugo Johnstone-Burt as Robinson's sidekick and Dot's beau Constable Hugh Collins.
So, too, do Miriam Margolyes as Phryne's Aunt Prudence, Tammy MacIntosh as the lady sleuth's friend Dr. Mac, Richard Bligh as Miss Fisher's aptly-named butler Mr. Butler, and Travis McMahon and Anthony Sharpe as Bert Johnson and Cec Yates, two of Phryne's cohorts in crime-solving.
Based on Kerry Greenwood's series of "Phryne Fisher Mysteries," the new season consists of eight new episodes that are as good as the ones in Series 1 and 2. (Details coming soon.)
But wait, there's more!
Public TV stations have another treat for Miss Fisher fans: the behind-the-scenes special Miss Fisher Uncovered, which includes interviews with members of the cast and crew and author Kerry Greenwood, and reviews of the characters' backstories and relationships, amongst other goodies.
Miss Fisher Uncovered begins airing Thursday, 6 August, and Miss Fisher's Murder Mysteries: Series 3 starts its US premiere on Saturday, 29 August 2015, on the stations listed below. We'll update this post as more stations add these shows to their schedules.
For both programs, check your local listings or contact the station that serves your area for broadcast dates and times.
Acorn releases the Miss Fisher Series 3 DVD in October.
| STATE | CITY | STATION |
| --- | --- | --- |
| ARIZONA | Tucson | |
| ARKANSAS | Arkadelphia, El Dorado, Fayetteville, Ft. Smith, Jonesboro, Little Rock, Mountain View | |
| CALIFORNIA | Monterey, Salinas, San Francisco, San Jose, Watsonville | |
| CALIFORNIA | San Diego | |
| DISTRICT OF COLUMBIA | Washington, DC | |
| FLORIDA | Daytona, Orlando | |
| FLORIDA | Miami | |
| FLORIDA | Tampa | |
| GEORGIA | Athens/Atlanta, Chatsworth, Cochran/Macon, Columbus, Dawson, Pelham/Albany, Savannah, Waycross, Wrens/Augusta | |
| ILLINOIS | Chicago | |
| LOUISIANA | Alexandria, Baton Rouge, Lafayette, Lake Charles, Monroe, Shreveport | |
| MARYLAND | Annapolis, Baltimore, Frederick, Hagerstown, Oakland, Salisbury | |
| MINNESOTA | Minneapolis, St. Paul | |
| NEW MEXICO | Albuquerque | |
| NEW JERSEY | Camden, Montclair, New Brunswick, Trenton | |
| NEW YORK | Garden City, New York City | |
| OKLAHOMA | Tulsa | |
| TEXAS | Dallas/Fort Worth | |
| UTAH | Richland, Salt Lake City, St. George | |
| VERMONT | Burlington, Rutland, St. Johnsbury, Windsor | |
| WASHINGTON | Seattle, Yakima | |
| WISCONSIN | Milwaukee | |
__________________
Add your comments on our Facebook, Google+, and Twitter pages.
Share this post/page.

Miss Fisher's Murder Mysteries: Series 3 and Special to Premiere On These Public TV Stations [UPDATED]