Two new event miniseries — the soon-to-premiere Tut and the newly-commissioned Tutankhamun — could prove that Egypt's boy-king and the man who discovered his tomb are ratings gold.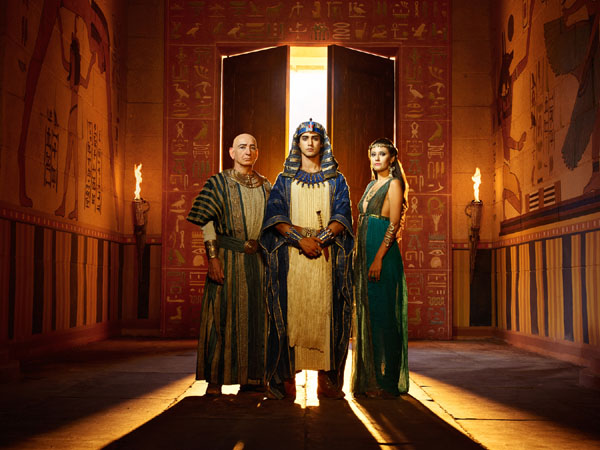 TUT
The Spike original, limited-series event recounts the saga of one of history's most extraordinary rulers — Tutankhamun, aka King Tut — from his rise to power, to his struggle to lead Egypt to glory, all while his closest advisors, friends, and lovers scheme for their own nefarious interests. For Tut, his is a world filled with heart-breaking romance, epic battles, political backstabbing, conspiracy, jealousy, and even murder.
Leading the cast of the three-night, six-hour event are Avan Jogia (Twisted, Victorious) as King Tut and Oscar® winner Ben Kingsley (Gandhi, Schindler's List) as Vizer Ay, the pharaoh's closest advisor. The complex relationship between the two, and their respective struggles for power, is one of Tut's central plot points.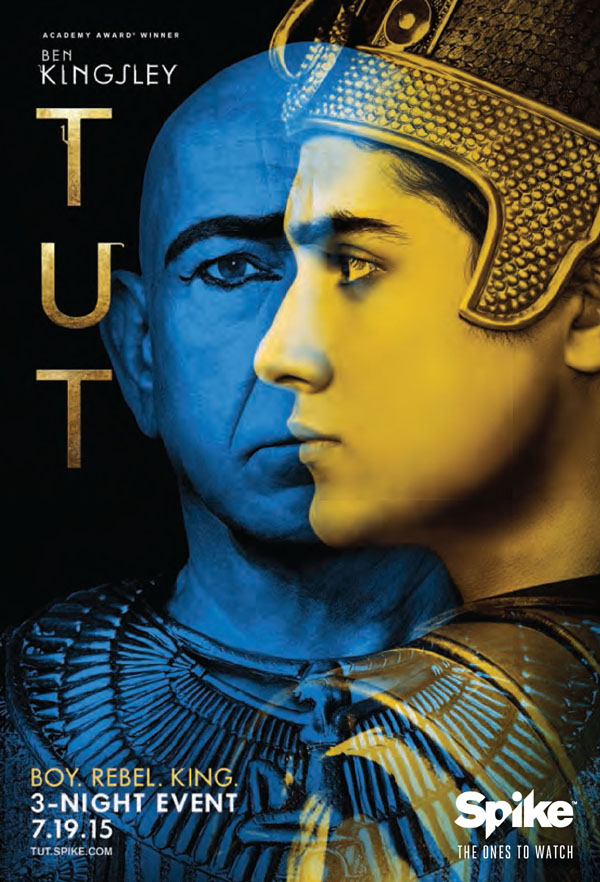 Following the murder of his father, Tut is thrust into power and forced to marry his strong-willed, ambitious half-sister Ankhe (Sibylla Deen, Home and Away) in order to maintain the dynasty. However, he's in love with a commoner, Suhad (Kylie Bunbury, Under the Dome), and struggles to protect her from the jealous queen.
And although Tut rules as Pharaoh, he is exploited by the shrewd Prime Minister Vizer Ay, the ruthless military man General Horemheb (Nonso Anozie, Game of Thrones), and the scheming High Priest Amun (Alexander Siddig, Da Vinci's Demons) — all of whom look down on Tut as someone they can control. Yet through unexpected twists and turns, Tut strives to overcome the odds and rises from a manipulated prince into an unlikely and triumphant hero who leads his kingdom to glory.
Shot entirely on location in Morocco, Tut — Spike TV's first scripted event series in eight years — is produced by Muse Entertainment (The Pillars of the Earth, Bomb Girls).
Tut premieres in the US Sunday through Tuesday, 19-21 July 2015, from 9:00-11:00 PM ET/PT, on Spike TV. For viewers in the UK, Channel 5 will air Tut soon after its US debut.
TUTANKHAMUN

Just commissioned by ITV is this four-part drama from ITV Studios.
Tutankhamun is the still-intriguing story of Howard Carter's discovery of the tomb of one of Ancient Egypt's forgotten pharaohs: the boy-king Tutankhamun.
The four-part event miniseries, written by Guy Burt (The Bletchley Circle, The Borgias), will focus on the personal story of Carter, a solitary man on the edge of society who became an iconic figure and an unlikely hero.
Set against the ochre sands, looming cliffs, and baking heat of Egypt's Valley of the Kings, the story unfolds from 1905, when eminent British archaeologist Carter is leading an expedition. Amidst the chaos scattered across the Valley floor, his determination to find lost antiquities is apparent. Also clear is Carter's hotheadedness, which jeopardizes the dig and his career.
With his license to dig revoked by Cairo's Antiquities Service and himself ostracized for years, Carter ends up living rough and resorting to selling previously discovered archaeological relics to survive.
But then a chance meeting with the eccentric British aristocrat, Lord Carnarvon, brings a change of fortunes, as this enthusiastic amateur needs an experienced archaeologist like Carter to help him with a series of random excavations. Thus Carter and Carnarvon begin an unlikely friendship, despite their differences of background and character. The privileged and fast living Carnarvon keeps faith with Carter and continues to back him when no one else will. After years of searching for the King Tut's tomb, Carter and Carnarvon — against all odds and at great personal expense — discover the last resting place of the boy-king in 1921.
The drama will be executive produced by ITV Studios Creative Director of Drama Francis Hopkinson (Home Fires, Wallander) and Catherine Oldfield (Collision, Foyle's War). Simon Lewis (The Paradise, Five Daughters) will produce, with Peter Webber (Girl with a Pearl Earring, Hannibal Rising) directing the series.
Filming will take place in South Africa during the winter of 2015 and early part of 2016.
Casting details will be announced in the coming months, so stay tuned.
__________________
Add your comments on our Facebook, Google+, and Twitter pages.
Share this post/page.

'Tut' and 'Tutankhamun': Egyptian Pharaoh and British Archaeologist Subjects of Two Miniseries