Agatha Christie's Partners in Crime — one of the most highly-anticipated new British TV dramas this year — makes its US debut on Acorn TV later this summer and marks one of the biggest US premieres yet for RLJ Entertainment's premier British television streaming service in North America. (Woo hoo!)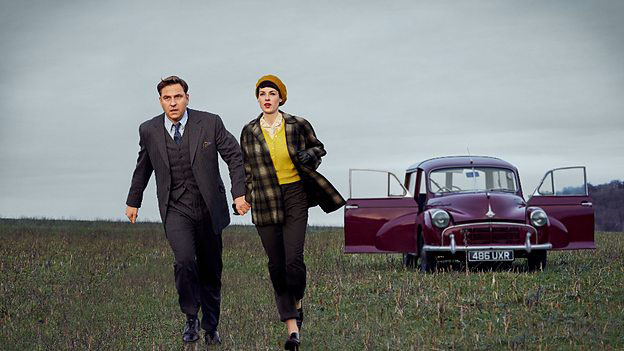 Adapted from the series of "Tommy and Tuppence" novels by Agatha Christie, the new BBC and Acorn TV mystery series premieres on both sides of the pond this September to coincide with the 125th Anniversary of Dame Agatha Christie's birth.
Agatha Christie's Partners in Crime stars David Walliams (Big School, Little Britain) and Jessica Raine (Call the Midwife, Fortitude) as Tommy and Prudence "Tuppence" Beresford, married detectives who tackle cases in two lively, sumptuous, and atmospheric mysteries based on the Agatha Christie novels The Secret Adversary and N or M?.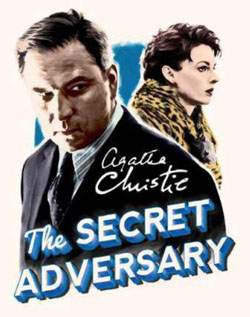 Set in a 1950s Britain rising from the ashes of the Blitz and falling into the grip of a new Soviet threat, Agatha Christie's Partners in Crime finds the unlikely heroes of Tommy and Tuppence stumbling into a world of murder, undercover agents, and Cold War conspiracy.
Tommy, the more cautious of the two, might be dismayed on occasion but is nevertheless undeterred as Tuppence sees adventure around every corner, throws herself (and Tommy) into every mystery with abandon, and is determined to get to the truth, no matter what it takes.
As Walliams described them, "Tuppence is definitely more forthright. She's braver than Tommy, he's more on the back-foot, but he means well. Tommy is a bit more of a klutz than Tuppence and is sometimes more of a burden. During the Second World War, Tommy was hit by a catering van on his first day as a soldier so he never got to prove himself – this is his journey to become a hero. Together however, Tommy and Tuppence make a good team."
Raine added, "They are both feeling the pinch, and scraping the barrel in terms of their savings. Tommy comes up with many schemes to make money, unfortunately 99% of them fail. Tuppence is very supportive, but ultimately knows they need to find a way to make money and fast. Their house is very run down and their son is aware that times are tough, but they put on a brave face and soldier on."
The first series of Agatha Christie's Partners in Crime includes two three-part stories: "The Secret Adversary," where the heroes search simultaneously for a missing girl and a recording that could identify a Soviet hit man living within their midst, and "N or M?," where they must identify which person in a guesthouse in Cromer has stolen a nuclear bomb… before it's too late.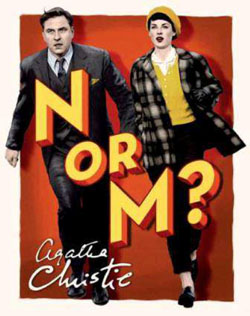 "In bringing these thrilling stories to the screen, it is our ambition for Tommy and Tuppence to finally take their rightful place alongside Poirot and Marple as iconic Agatha Christie characters. I was first drawn to the delicious notion of a married couple solving crimes together, and the more I read of the Tommy and Tuppence novels and short stories, the more I realised they are among Christie's very best work," enthused Walliams.
Matthew Steer (Siblings) costars in Agatha Christie's Partners in Crime, and James Fleet (Outlander) guest stars.
Said Miguel Penella, Chief Executive Officer of RLJ Entertainment, Inc., "Following the finales of the long-running Poirot and Marple series last year on Acorn TV, we're thrilled to introduce two more iconic Agatha Christie characters to U.S. audiences in lavish, new BBC productions. David Walliams and Jessica Raine are ideally suited to bring new life to Christie's delightful married detective duo. The Tommy & Tuppence stories were the ones Christie enjoyed writing the most, so we're excited to bring them back, coinciding with the 125th anniversary of her birth in September."
The first two hour-long episodes of Agatha Christie's Partners in Crime debut Thursday, 3 September 2015, on Acorn TV, with a new episode added every Thursday through the sixth and final episode on the 1st of October.
Thursday, 3 September — "The Secret Adversary, Parts 1 and 2"
Thursday, 10 September — "The Secret Adversary, Part 3"
Thursday, 17 September — "N or M? Part 1"
Thursday, 24 September — "N or M? Part 2"
Thursday, 1 October — "N or M? Part 3"
Acorn will syndicate the episodes to public television stations in January 2016, and release the series on DVD in early 2016.
Produced by Endor Productions and Agatha Christie Productions Ltd., Agatha Christie's Partners in Crime is directed by Edward Hall (Downton Abbey), produced by Georgina Lowe (Mr Turner), and executive produced by Walliams, Emmy® winner Hilary Bevan Jones (State Of Play), Hilary Strong (Agatha Christie's Poirot), and Agatha Christie's grandson, Mathew Prichard.
__________________
Add your comments on our Facebook, Google+, and Twitter pages.
Share this post/page.

Acorn TV Sets Premiere Date for Agatha Christie's Partners in Crime