Channel 4 and AMC have just confirmed that they have recommissioned the critically-acclaimed sci-fi show, Humans, for a second series. (Yay!)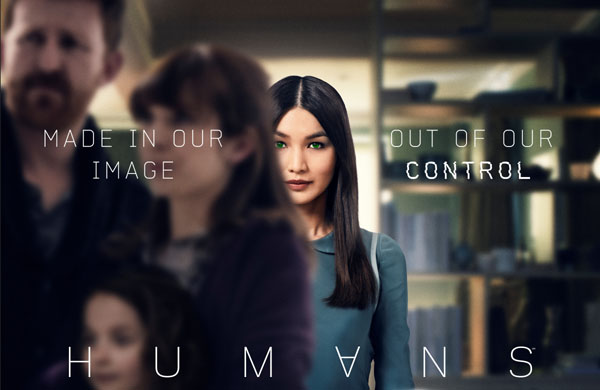 Based on the award-winning Swedish sci-fi drama Real Humans (Äkta Människor), Humans is set in a parallel present and explores what happens when the lines between humans and machines are blurred.
The first series tapped into society's preoccupation with, and mistrust of, advancing technology and artificial intelligence, and prompted a wide of questions — from "What does it mean to be human?" and "Can one teach love, trust, loyalty, friendship, sacrifice, and other traits that help to define humanity?" to "What is family, really?"
In exploring humans' inherent fear of the unknown and the possible implications of granting machines consciousness, the final episode will leave viewers on a thrilling cliff-hanger: Will the synth family come together and find a way to create sentience in others like them?
That, presumably, will be answered when Humans returns for eight new episodes, for which production begins next year.
With its first series, Humans delivered impressive numbers for both Channel 4 and AMC.
In the UK, the first episode attracted a consolidated audience of 6.1 million viewers, making Humans the highest-rated original drama for Channel 4 in 20 years. Over all episodes aired to date, the drama has averaged 4.8 million viewers per episode, giving the channel an 18 share during the show's 9-10 PM time slot. More impressive is the 26 share against Channel 4's key demo of 16-34 year-old viewers, a figure that tripled the average share for the same hour.
In the US, Humans has so far averaged 2 million viewers, with 1 million in the Adults 25-54 segment (Live +3 ratings), giving AMC one of the top five cable drama launches against that demo.
__________________
Add your comments on our Facebook, Google+, and Twitter pages.
Share this post/page.

Humans: AMC and Channel 4 Re-Up for Series 2 of Hit Sci-Fi Drama