The former trio of Top Gear — Jeremy Clarkson, Richard Hammond, and James May — have a new gig and new place to get their car groove on: Amazon Prime Instant Video.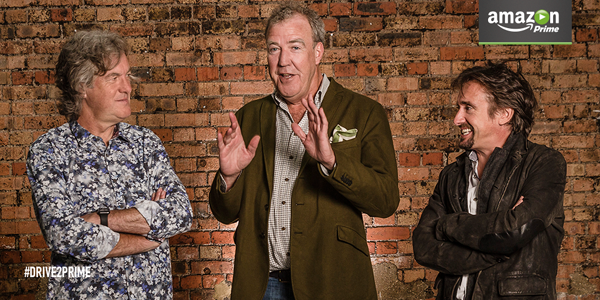 Fans of the BBC's hit motoring show have been speculating about if, where, and when Clarkson, Hammond, and May would host another car show, ever since Clarkson was booted from Top Gear for assaulting a producer, and May and Hammond chose not to re-up their contracts without Clarkson.
Now all three questions are answered: Yes, they will, at Amazon, starting next year.
The as-yet-unnamed new car show, currently slated for three seasons, is about to go into production for a 2016 premiere exclusively on Amazon Prime Instant Video
worldwide.
Joining the hosting trio is their long-time executive producer Andy Wilman.
Said Clarkson, "I feel like I've climbed out of a bi-plane and into a spaceship." And added…
.@AmazonVideoUK now saying I can't be their chief drone pilot. Apparently they want us to make a car show.

— Jeremy Clarkson (@JeremyClarkson) July 30, 2015
__________________
Add your comments on our Facebook, Google+, and Twitter pages. Share this post/page.
Amazon Gears Up New Jeremy Clarkson, Richard Hammond, James May Car Show