Here's the thing about animated series such as Danger Mouse: Adults love them as much as children, which is why Lena Headey and John Oliver are adding their voices to the Danger Mouse reboot.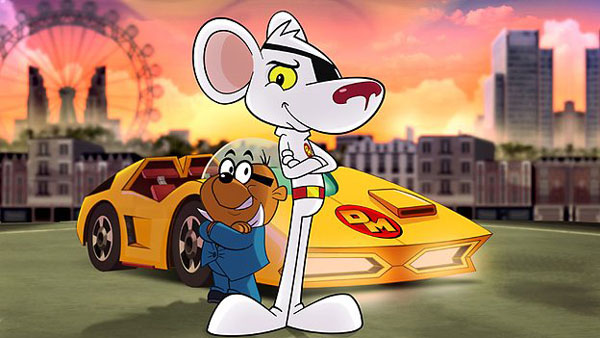 Before getting into who will be voicing which character in the new Danger Mouse, let's do a quick overview of the show.
Danger Mouse is an animated spoof of British spy fiction and dramas, such as the James Bond novels and films and the Danger Man television series that starred Patrick McGoohan. The original ran for ten seasons, from 1981-1992, with David Jason (Open All Hours, A Touch of Frost) voicing the Danger Mouse character.
In the 21st-century version, Alexander Armstrong (Hunderby, The Sarah Jane Adventures) stars as the voice of Danger Mouse, the world's smallest secret agent. His trusty sidekick, the hapless hamster Penfold, is played by Kevin Eldon (Death Comes to Pemberley, Nighty Night), while Stephen Fry (QI, Kingdom) voices their boss, Colonel K, and Dave Lamb (Goodness Gracious Me, Moving Wallpaper) serves as the Narrator.
As announced yesterday at Comic-Con International 2015 in San Diego, actress Lena Headey (Game of Thrones, Dredd) and comedian, satirical presenter, and talk show host John Oliver (Last Week Tonight with John Oliver, The Daily Show with Jon Stewart) are joining the cast.
Headey will play the sassy and stealthy Jeopardy Mouse, a super-proficient American, female version of Danger Mouse, and Oliver will voice Danger Mouse's long-time adversary, Dr. Augustus P. Crumhorn III. Jeopardy Mouse, the unseen star of the US Secret Service, performs her missions with the minimum of fuss, while Crumhorn continues to cause trouble for Danger Mouse and Penfold with his wolfish and wily scientific ways.
Said Headey about her role in Danger Mouse, "I wanted to do it because it was pure nostalgia for me. I have children now and it's just a treat to be involved in something that you loved as a kid and be able to share it. Those moments as an actor that come a long once in while are not to be missed."
And Oliver enthused, "I've loved Danger Mouse my whole life. Danger Mouse was a significant part of my childhood. So to get a chance to do it is like getting a chance to step into your childhood, which is both a magical and a potentially hazardous thing! It will be awesome, I can't wait to see it, let alone hear myself in it!"
It was also revealed at Comic-Con that Count Duckula, the villainous vampire duck and original Danger Mouse spin-off character, will appear in the new series, as well — testing Danger Mouse's resolve with his traditionally dark and dangerous ways.
Licensed to thrill a whole new generation of fans, this reimagined new series follows the misadventures of the heroic, small, but perfectly-formed super-spy Danger Mouse, who returns in style to save a world teetering on the edge of disaster. Bursting with boundless confidence, the show's hero is as cool as ever as he attempts to overthrow a host of villainous rivals with the help of Penfold and a collection of state-of-the-art gadgets and vehicles.
Danger Mouse will premiere on CBBC, the BBC's children's channel, in the UK this fall, and in the US on Netflix in the spring of 2016.
To get your animated spy on now with the original series, all ten seasons of the Danger Mouse Classic Collection are currently streaming at Netflix US, and the first three are available at Netflix UK.
__________________
Add your comments on our Facebook, Google+, and Twitter pages.
Share this post/page.

Danger Mouse: Lena Headey, John Oliver Join Voice Cast of Classic Series Reboot