It's summer blockbuster time, but CGI special effects and animation have nothin' on the slapstick and word play of Shakespeare's farcical The Comedy of Errors, which arrives in cinemas across the US and UK next week.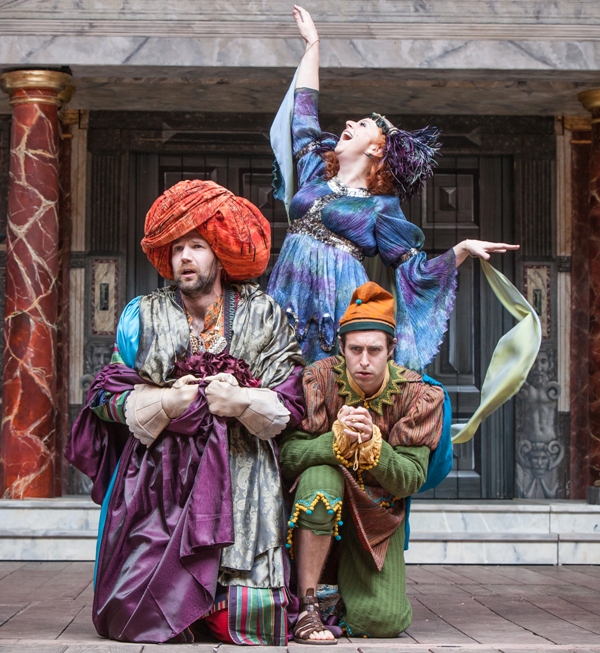 Shakespeare's Globe on Screen, which brings filmed productions performed at the famed theatre in London to cinema audiences around the world, closes out its 2015 season with the uproarious The Comedy of Errors.
Employing authentic Renaissance costumes and staging, this sell-out production in 2014 garnered rave reviews in the UK press, including:
"… the Globe has come up with a superb production that succeeds on every level."
— The Public Reviews, Scott Matthewman, 05/09/2014 *****

"… as enchanting as it is hilarious…"
— The Independent, Paul Taylor, 05/09/2014 *****
Based on a farce by the Roman playwright Plautus, the Globe's production of Shakespeare's The Comedy of Errors combines two pairs of estranged twin brothers, 140 fish, 105 bouncing urns, 700 lettuces, 350 bunches of grapes, 35 bread rolls, and 35 octopuses into one romp of an evening at the theatre (or cinema, as the case is here).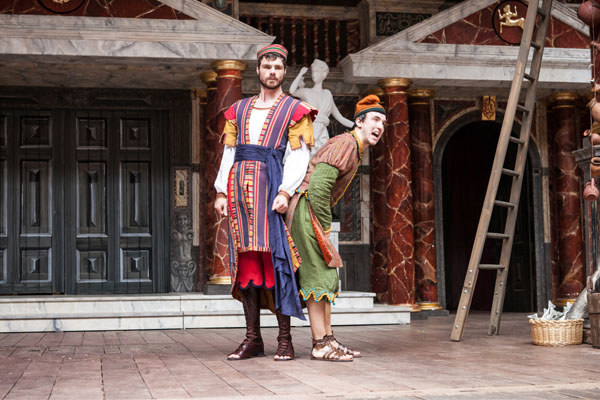 The story in a nutshell is this: Antipholus of Syracuse and his servant, Dromio of Syracuse, go to Ephesus to find their respective long, lost brothers, Antipholus of Ephesus and his servant, Dromio of Ephesus. But mistaken identities, the belief in sorcery, suspicions of infidelity, and more lead both pairs into a series of comical and chaotic misadventures.
The stars include Matthew Needham (Casualty) as Antipholus of Ephesus, Simon Harrison (Henry VI Parts 1, 2 and 3) as Antipholus of Syracuse, Brodie Ross (Inspector Lewis) as Dromio of Syracuse, and Jamie Wilkes (Wendy and Peter Pan) as Dromio of Ephesus, who spent 2 hours 20 minutes of the production run with his head inside a turkey!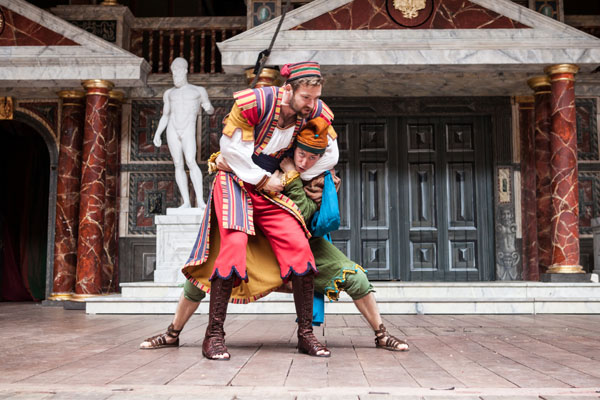 The full cast also includes Stefan Adegbola, Andy Apollo, Paul Brendan, Linda Broughton, Gershwyn Eustache Jr, Becci Gemmell, Peter Hamilton Dyer, Emma Jerrold, Hattie Ladbury, Anne Odeke, and James Laurenson (The Bourne Identity, State of Play) as Egeon.
Blanche McIntyre, winner of the 2011 Critics' Circle Most Promising Newcomer Award and the 2013 TMA UK Theatre Awards Best Director award, directed The Comedy of Errors. Her other credits include the critically-acclaimed As You Like It at Shakespeare's Globe, The Birthday Party (Royal Exchange, Manchester), and The Seagull (Headlong).
Shakespeare's Globe On Screen brings The Comedy of Errors to hundreds of cinemas in the US and UK beginning Thursday, 25 June 2015.
The 147-minute film (which includes a 15-minute interval) is shown in high definition and full surround sound.
To find a cinema near you that will be screening The Comedy of Errors and to purchase tickets, visit the Globe On Screen website or Fandango.
__________________
Add your comments on our Facebook, Google+, and Twitter pages.
Share this post/page.

Shakespeare's The Comedy of Errors Coming to Globe On Screen in the US and UK