PBS announced today that Season 2 of ITV's acclaimed British sitcom, Vicious, starring Ian McKellen and Derek Jacobi, is returning to the US public broadcasting network this summer. Woo hoo!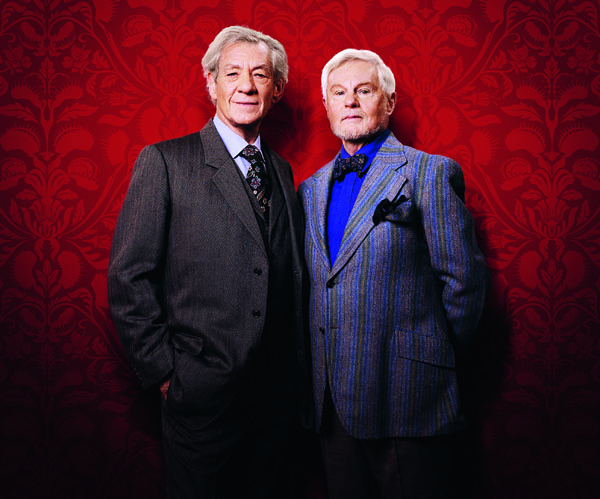 Britcom fans, we'll be getting our laugh on once again when Freddie (Ian McKellen) and Stuart (Derek Jacobi) bring more of their snarkiness to US telly this summer.
And joining the pair are friends Violet (Frances de la Tour), Ash (Iwan Rheon), Penelope (Marcia Warren), and Mason (Philip Voss), plus surprise guest characters, as the men embark on another season of humorous mishaps, hideous break-ups, and heart-warming make-ups.
Said Beth Hoppe, Chief Programming Executive and General Manager, General Audience Programming, PBS, "Ian and Derek's undeniable chemistry and feisty wit truly make the show easy to love… even when it's 'vicious'."
But wait, there's more!
On Sunday, 28 June 2015, McKellen and Jacobi will serve as Grand Marshals of New York City's 46th Annual Pride March, the largest gay pride parade in the United States. They will also be speaking at the NYC Pride Rally on 26 June to kick off the weekend's festivities.
Joining them as Grand Marshals are J. Christopher Neal, a New York artist and leader of FluidBiDesign, and Kasha Jacqueline Nabagesera, co-founder of the first Uganda Pride celebration.
Gary Janetti (Will & Grace, Family Guy) is the creator, showrunner, and executive producer of Vicious, which is also produced by Gary Reich (How Not to Live Your Life, Three Non Blondes) and directed by Ed Bye (Absolutely Fabulous, Home Again). Vicious is a production of Brown Eyed Boy, in association with Kudos and Nickelby Inc.
The six-episode Vicious: Season 2 premieres Sunday, 23 August 2015, at 10:30 PM ET, exclusively on PBS.
Full episodes will be available for online streaming on PBS Video for 30 days after each national broadcast.
__________________
Add your comments on our Facebook, Google+, and Twitter pages.
PBS Gets More Vicious When Ian McKellen and Derek Jacobi Comedy Returns with Second Season [UPDATED]