No, not how to get ahead in advertising, but in the royal courts of Ye Olde Europe. As presented in How to Get Ahead, the illuminating documentary series that is coming to public TV stations and features actor David Tennant and one of British telly's Two Fat Ladies.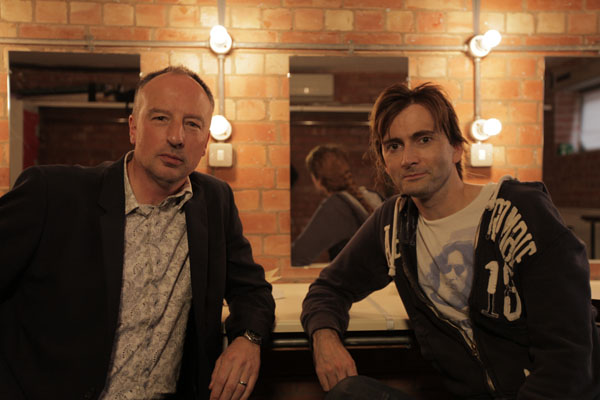 Presented by Stephen Smith, the arts correspondent for the BBC's Newsnight program and author of Underground London,
 the fascinating three-part How to Get Ahead series gives us an inside look at the dos and don'ts of moving up in the world in Europe of days gone by.
Smith immerses himself in three of the most infamous courts in European history — the Medieval period court of English King Richard II, the Renaissance period court of Italian Grand Duke Cosimo de' Medici, and the Baroque period court of French King Louis XIV — to discover what it took for their courtiers to survive and prosper.
Says Smith, "In the days of absolute monarchy, the royal court was where you went to get ahead. It was the nation's heart of power, influence, and money. But life at court was a game of high stakes. It could make you, or it could break you."
Then, as now, that making or breaking could include everything from bribery, blackmail, and sycophancy, to sporting prowess, partying, and praying.
How to Get Ahead: at Medieval Court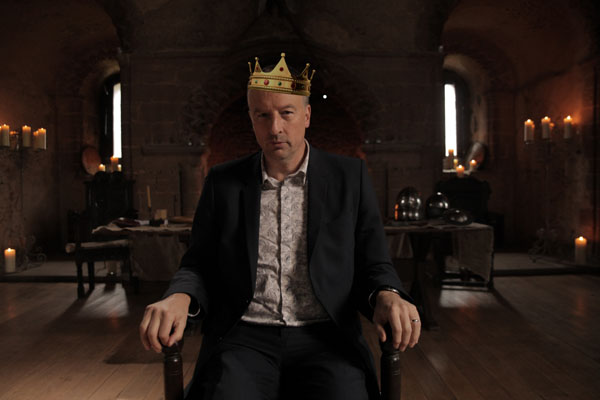 Centuries before the Houses of Windsor, Saxe-Coburg-Gotha, Hanover, Stuart, Orange, Tudor, and York, and just before the House of Lancaster, there was the last of the House of Plantagenet: King Richard II.
According to Smith, "Richard II was the first English king to use art and rhetoric to build a sophisticated court. It gave his reign a new aura. Richard wanted to take the monarchy to a whole new level. Until his day, the king was first among equals. Leader of the gang, sure, but still one of the chaps. Instead, Richard craved absolute power, veneration, the aura of divinity, even. He was the first monarch who insisted on being addressed as your highness, your majesty, even your high royal presence."
So, with Richard presiding over the first truly sophisticated and artistic court in England, artists and artisans, such as painters, sculptors, poets, tailors, weavers, and builders, flocked to his court to make their fortunes.
But Richard was "unpredictable."
"He could be spiky, thin-skinned, peevish, over-sensitive, effete."
How, then, could courtiers get close to Richard without meeting "a sticky end," given that he blew hot and cold?
Smith tells us and shows us with a bit of help from star of stage and screen, David Tennant (Broadchurch, Dr. Who, The Politician's Husband), and the late Clarissa Dickson Wright (of the hit Brit cookery show, Two Fat Ladies,
 which was also shown in the US on public TV stations).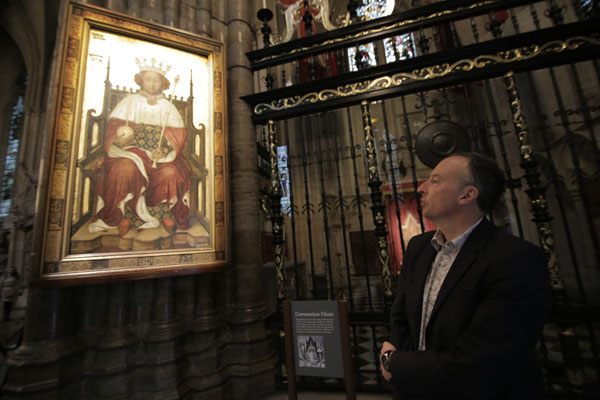 In this episode, Smith covers the rules of how to get ahead in the royal court of Richard II, the youngest king ever crowned at Westminster Abbey. And quite a set of rules they are. Of the 17 that Smith offers up as ways to flatter and impress the king, here are just a few:
Rule 3: Dress to Impress — Richard II was a dapper dresser, so "courtiers had to be well turned out from head to toe," too.
Rule 5: Be a Favorite — If you had been one, Richard might have bestowed you with the title of Marquess, which he invented.
Rule 6: Know the King's Mind — "Freud would have had a field day with Richard, but Shakespeare got there first. […] His play, Richard II, delves into the dark corners of the king's psyche."
(As an aside, I had the very good fortune of being able to see David Tennant perform as the king in the sold-out RSC production of Richard II
at the Royal Shakespeare Theatre in Stratford-upon-Avon in November 2013. He and the play were magnificent.)
Rule 9: Take a Bath — Doing so on the Thames, as Richard did, not required.
Rule 11: Cook up a Feast — The first cookbook, featuring "recipes compiled by royal cooks, some of the most important people in the household," was written for Richard, and included "everything from blancmange to porpoise soup." (In this segment, Wright, with Smith as her scullion, cooks up a rabbit dish à la Richard's kitchen staffers.)
Rule 13: Blow Your Nose — Did you know that Richard invented and popularized the handkerchief?
Within Smith's rules for Richard II is an array of people and things, including the King's Champion, the Archbishop pf Canterbury, "10th [sic] Earl of Oxford" Richard de Vere, the Cheshire Archers, Geoffrey Chaucer, The Coronation Portrait, The Wilton Diptych, the Liber Regalis, Poulaine shoes, the king's badge, and the funerary effigies of Richard and his first wife Anne.
Ultimately, though, being amongst Richard's intimates proved fatal, as Richard was forced to abdicate the thrown and died at Pontefract Castle, where it is believed he starved to death.
How To Get Ahead: At Renaissance Court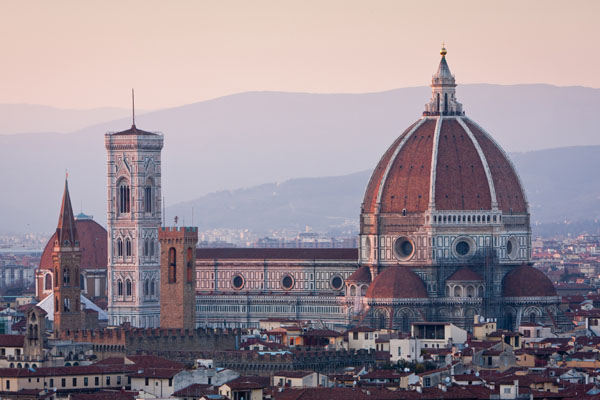 This episode explores Renaissance Florence under the reign of Grand Duke Cosimo de' Medici. His fledgling court prized the finer things in life, and some of the greatest painters, sculptors, and craftsmen in the world's history came to serve the Grand Duke.
To be successful, courtiers had to have brains as well as brawn. The canniest of them looked to theorists like Niccolo Machiavelli for underhanded ways to get ahead, while enlightened polymaths turned their minds to the heavens and even ice cream!
(This episode will be covered in-depth in an upcoming post at The Euro TV Place.)
How To Get Ahead: At Versailles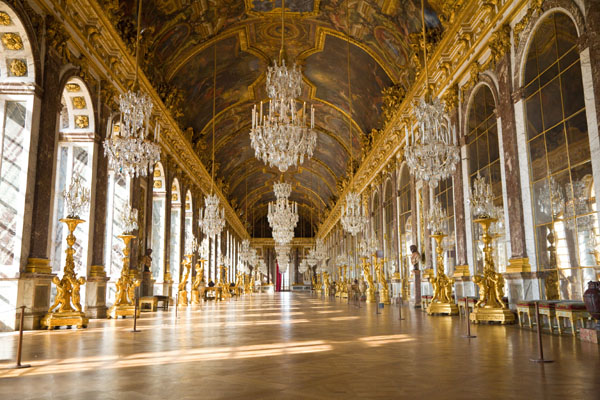 The flamboyant Baroque court of King Louis XIV, known as the Sun King (le Roi Soleil), is the feature of this episode. Louis Quatorze created the Palace of Versailles (home of the famed Hall of Mirrors, shown above) so he could constantly surround himself with aristocrats, artists, interior designers, gardeners, wig makers, chefs, and musicians.
Hordes of ambitious courtiers scrambled to get close to the King, but unseemly goings-on in the royal bedchamber reflected the quickest path to power.
(As with the Renaissance Court episode, this one will also be covered in-depth in an upcoming post at The Euro TV Place.)
The stations below are confirmed for airing How to Get Ahead starting 1 May 2015. Check your local listings or contact the station that serves your area for broadcast dates and times. For additional information about the program and carriage, contact American Public Television.
| STATE | CITY | STATION |
| --- | --- | --- |
| NEW YORK | Rochester | |
| NORTH CAROLINA | Asheville, Chapel Hill, Charlotte, Concord, Edenton, Greensboro, Greenville, Jacksonville, Linville, Lumberton, Raleigh-Durham, Roanoke Rapids, Wilmington, Winston-Salem | |
| OHIO | Cincinnati | |
| TEXAS | Austin | |
| UTAH | Salt Lake City | |
__________________
Add your comments on our Facebook, Google+, and Twitter pages.
How to Get Ahead: David Tennant in Royal Courts Documentary on Public TV Stations