Where's me jumper? Who cares. Let's talk imaginary friends instead, because the third and final season of Moone Boy, the International Emmy® Awards winner for Best Comedy in 2013, is headed to the US.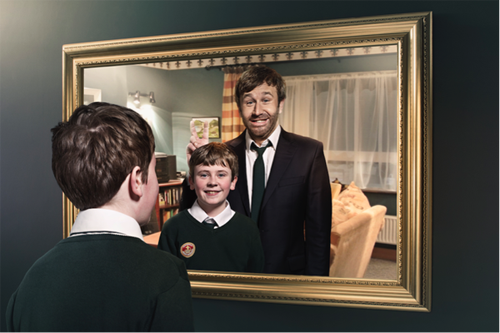 Also nominated for a 2015 BAFTA for Best Situation Comedy, the critically-acclaimed Moone Boy
 is returning to Hulu with six new episodes for its last-ever season. (Oh, balls.)
And you know what that means. Irish teen Martin Moone (David Rawle) has more wacky escapades in Boyle, County Roscommon, Ireland, with his best mates, the imaginary Sean Murphy (series creator, co-writer, and S3 director Chris O'Dowd, The IT Crowd, Family Tree, Girls) and the in-the-flesh Padraic (Ian O'Reilly).
Season 3 opens in 1991 and finds Martin and Padraic staying for a few days with Uncle Danny (Steve Wall, Vikings) in Dublin, reason being that the Moone parents, Debra (Deirdre O'Kane) and Liam (Peter McDonald), are off second-honeymoon-ing it for their 20th wedding anniversary.
But it's not all lovey-dovey time for the couple. They run into Liam's former flame Sharon Morgan (Sharon Horgan, Pulling) at the resort, which prompts Debra to give yoga a go. Meanwhile, Martin and Padraic hawk encyclopedias to help Danny. And back in Boyle, Debra's vampy friend Linda (Norma Sheahan) plays chaperone to Moone sisters Tricia (Aoife Duffin) and Sinead (Sarah White), while Sean tries to figure out how he got left behind.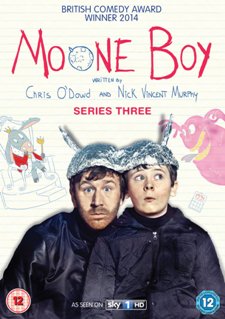 Next up: Padraic runs (not far) away to escape the arguments between parents Pat and Paddy O'Dwyer (Bronagh Gallagher, Pramface, and David Pearse, Trivia), and Debra becomes a marriage counselor. Then Padraic goes rogue and takes Martin with him for some craic, a.k.a. shoplifting spree, while Crunchy Haystacks (Johnny Vegas, Benidorm) takes to the bottle to drown his sorrows and spurs an imaginary friend intervention.
Where's me Fidelma (Clare Monnelly)? With Dessie (Ronan Raftery) and baby Rose back at the Moone home, where the family schemes to get the trio into Granddad's (Tom Hickey, Rory O'Shea Was Here) empty house. And Martin and Padraic use the latter's new video camera to score some cash from a not-so-funny home video show, for which Sir Terry Wogan of BBC Radio 2 guest stars as the host.
The powers that be in Boyle are up in arms about local crop circles and aliens, especially after Martin claims his pet donkey was abducted on a radio show hosted by conspiracy theorist Dr. Steven Gnot (John Sessions, Mr. Holmes). Things get worse before they get better after Liam claims his own abduction on TV.
Then Boyle gets its first Catholic bookstore, thanks to Dessie and a bank loan, only it's more than that, and Liam gets an addition for the Moone base, only it's less than that. And Martin moves into his own, um, penthouse.
And closing out Moone Boy are Granddad's bucket list, his monochromatic childhood imaginary friend George Gershwin (Paul Rudd, I Love You, Man), a funeral, and the most colorful reenactment of the Irish Civil War seen on the Emerald Isle.
Moone Boy: Season 3
premieres Wednesday, 13 May 2015, exclusively on Hulu/Hulu Plus.
__________________
Add your comments on our Facebook, Google+, and Twitter pages.
Moone Boy: Third and Final Season of Hit Irish Comedy Landing in the US