"Friends, Romans, countrymen, lend me your ears." Theatre lovers, too. The recent, critically-acclaimed Shakespeare's Globe production of Julius Caesar is headed to cinemas in the US and UK via Globe on Screen. "Fortune is merry"!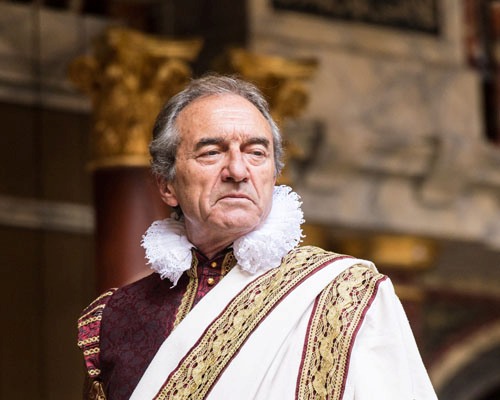 "Beware the Ides of March" next year. Right now, prepare to get your Shakespeare on when Globe On Screen brings The Bard's tragedy, Julius Caesar,
to cinemas later this month and for a limited time only.
Directed in 2014 by Dominic Dromgoole, Artistic Director of Shakespeare's Globe and author of Will & Me: How Shakespeare Took Over My Life,
this "robustly energetic" (The Guardian), "swift and impassioned" (The Stage), and "taut, thriller-ish production" (Time Out) brings to life the true events on which Shakespeare based his play.
A victorious Caesar returns to Rome from war. In the midst of the celebrations (during which he ignored the Soothsayer's advice about the Ides of March), politicos Cassius and Brutus discuss their concerns about the plebeians' desire to make Caesar a king, which would thus overturn the republic. But Casca, who has since joined the conversation, tells them Caesar had refused the crown offered him thrice by Mark Antony. Yet Cassius forges ahead with his scheme to remove Caesar from power. Permanently. By assassinating him.
Despite the bad omens, the nightmares and pleas of his wife, Calphumia (a.k.a. Calpurnia), and other attempts to warn him, Caesar heads to the Senate, where each of the conspirators stabs him and he utters, "Et tu, Brute," before he dies. As much as this might appear to be a mission accomplished for the assassins, the loyal Mark Antony turns public opinion against them with his speech at Caesar's funeral, and a battle ensues between the armies of Mark Antony and Octavius, Caesar's appointed successor, and those of Brutus and Cassius.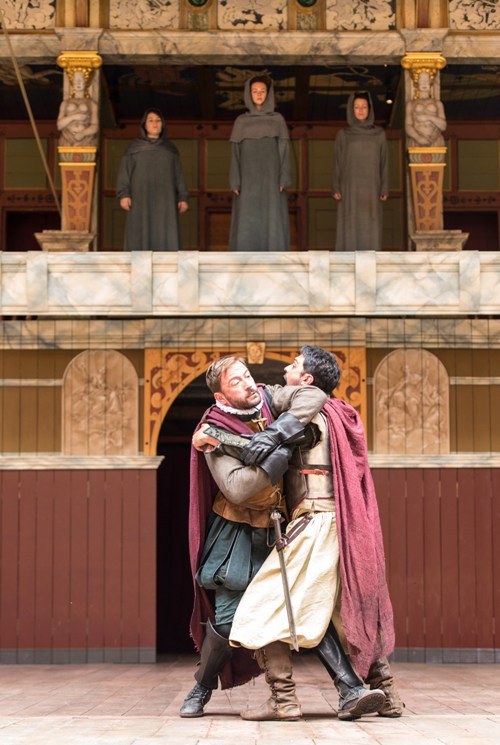 In a drama that still resonates today, Shakespeare revealed in Julius Caesar the envy and ambition, virtue and honor, power plays and mob violence of Roman politics. And Dromgoole interpreted it with Renaissance costumes and staging by the renowned Jonathan Fensom (King Lear).
Key players in the cast are Catherine Bailey (House of Anubis) as Portia, Anthony Howell (Foyle's War) as Cassius, George Irving (Holby City) as Julius Caesar, Joe Jameson (Great Expectations) as Octavius Caesar, Christopher Logan (Mrs. Henderson Presents) as Casca, Tom McKay (The White Queen) as Brutus, Katy Stevens (London's Burning) as Calphumia, and Luke Thompson (In the Club) as Mark Antony.
Additional cast members include Sam Cox (Anna Karenina) as Marullus/Caius Ligarius, Patrick Driver (The Office) as Lepidus/Cinna, Tom Kanji (Silent Witness) as the Soothsayer, Will Mannering (Holby City) as Titinius/Metellus Cimber/Cinna the Poet, Keith Ramsey (Shetland) as Lucius/Young Cato, Paul Rider (EastEnders) as Messala/Cicero, and Dickon Tyrell (Law & Order: UK) as Decius Brutus/Lucilius.
The sold-out, 167-minute (with 15-minute interval) Shakespeare's Globe production of Julius Caesar premieres in cinemas across the US and UK beginning 30 April 2015. Visit the Globe On Screen website to find the participating movie theatre nearest you and to purchase tickets.
__________________
Add your comments on our Facebook, Google+, and Twitter pages.
Julius Caesar: Shakespeare's Tragedy Comes to Globe On Screen