Hump days don't get any better than this! ITV has commissioned a ninth series of Inspector Lewis. Need I say more?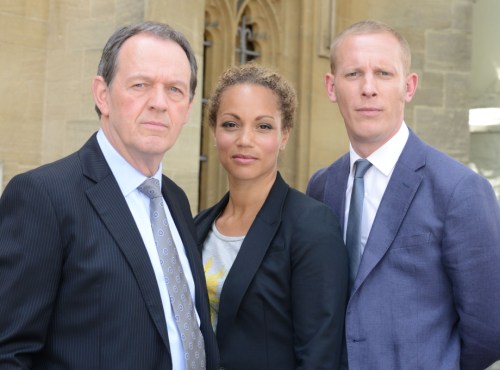 No, but I will anyway… Kevin Whately and Laurence Fox are reprising their roles as the retired DI-turned-consulting detective, Robbie Lewis, and the recently-promoted DI James Hathaway, respectively, when the ultra-popular mystery drama, Inspector Lewis, returns for a ninth series of six new episodes.
Angela Griffin also returns as DS Lizzie Maddox, who joined the detective duo in the last series
 to investigate Oxford's most complex murders.
But there's a new face at Oxfordshire Police now. That of a new Chief Superintendent. (Did Jean Innocent retire???) Apparently the "high flier" clashes with Lewis over the latter's more traditional approach to detective work.
As for Lewis' lady love, forensic pathologist Laura Hobson (Clare Holman), she's thinking about early retirement.
So, with Laura contemplating calling it a day with the corpses, and a new boss piling on the pressure, Lewis might finally decide to put his policing career to bed for good this time, and go back into retirement himself.
Meanwhile, after years of avoiding the thorny issue of family ties, Hathaway is forced to confront his past. (Perhaps brought on by that walk to Santiago de Compostela?)
The new series of Inspector Lewis goes into production in May 2015, and will once again feature the beautiful locations in and around the city of Oxford.
The first two-part film will involve Inspector Lewis veterans, including writer Helen Jenkins (Holby City), director Nick Laughland (Midsomer Murders), producer Chris Burt (Inspector Morse), and executive producer Michele Buck (Endeavour).
Colin Dexter, the creator of Inspector Morse, will continue his association with Inspector Lewis as a consultant on all aspects of production.
Stay tuned for updates about the other episodes in Series 9 and whether PBS will screen it (as Season 8) in the US.
__________________
Add your comments on our Facebook, Google+, and Twitter pages.
Inspector Lewis: ITV Commissions Ninth Series (Woo Hoo!)