"The river did come to me, straight into my arms…" And it will do again, as Sky and Pivot have renewed Fortitude, the crime thriller that's become a worldwide hit, for a second season, just ahead of the Season 1 finale.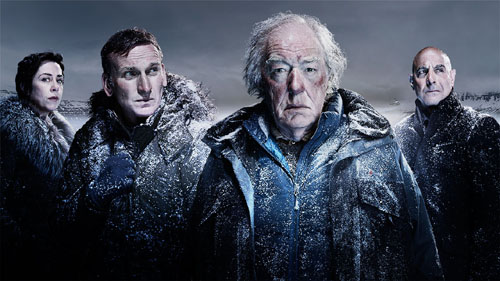 "The safest place on earth" has turned out to be anything but, with several characters having been killed off so far in Season 1 of Fortitude.
 And there's one more episode to go!
Denizens of the Arctic town of Fortitude legally aren't supposed to die there but do anyway, so which ones might in Season 2? Not a clue. The cast hasn't been announced yet. What's certain is a number of major Season 1 cast members won't be returning.
The first season of the crime thriller — which kicked off with the first-ever murder in Fortitude — starred Stanley Tucci (The Hunger Games), Richard Dormer (Game of Thrones), Sofie Gråbøl (The Killing), Michael Gambon (The Casual Vacancy), and Christopher Eccleston (Doctor Who).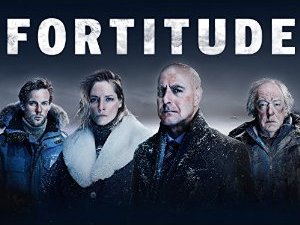 A Sky/Pivot original series, Fortitude's second season will include 10 episodes penned and produced by series creator Simon Donald.
Donald enthused, "It's a privilege to return to Fortitude. It's a place where the real and the feared live side by side, where old dark secrets thaw out into the chill light of the arctic day. I'd never been anywhere like Fortitude before and I can't wait to go back."
Said Kent Ross, General Manager of Pivot, "From the first episode, audiences responded to the incredibly rich world Simon Donald created, where nature and civilization collide with catastrophic results. We're excited to announce that Fortitude will be back for another season of suspense and chaos."
And Zai Bennett, Channel Director, Sky Atlantic, said: "Simon Donald created a unique and unsettling story which, week after week, has captivated audiences. I am absolutely delighted that we will be bringing Fortitude back next year with a story that promises to engage, challenge and enthrall us all over again."
Season 2 of Fortitude will be executive produced by Jeff Skoll and Chris Loveall for Pivot, Anne Mensah and Lizzie Gray for Sky Atlantic, and Patrick Spence and Frith Tiplady for Fifty Fathoms and Tiger Aspect.
The Fortitude: Season 1
finale screens tonight, Thursday, 9 April 2015, at 9 PM GMT on Sky Atlantic in the UK and at 10 PM ET on Pivot in the US.
__________________
Add your comments on our Facebook, Google+, and Twitter pages.
Fortitude: Hit Brit Crime Drama Renewed for Season 2