Fun might not be the first word that comes to mind when it comes to documentaries, but with Everyday Miracles, fun is what you get. Kids will like it, too!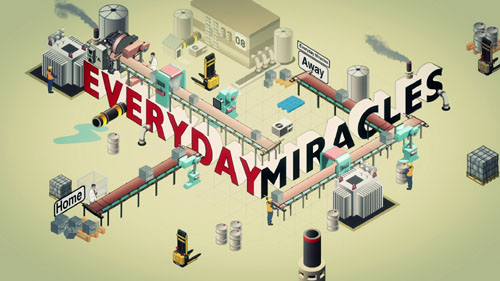 Everyday Miracles is about stuff. Specifically the stuff of everyday modern life that we probably give short shrift and take for granted. And the backstory of how certain items amongst that stuff came to be. It's science and history rolled into one brilliant, two-part documentary.
Doing hosting (and experimenting) duties for Everyday Miracles is a guy who knows how to have fun with science-y stuff: Mark Miodownik, Professor of Materials and Society at University College London (UCL) and the author of Stuff Matters: Exploring the Marvelous Materials That Shape Our Man-Made World.
An engineer and materials scientist, Miodownik is on the The Times' list of the top 100 most influential people in UK science, won the Royal Academy of Engineering Rooke Medal in 2013, and in 2014 was awarded the UCL Media Communicator of the Year. And while he's no rocket scientist, he did receive his Ph.D. in turbine jet engine alloys from Oxford University. (Pretty cool, right?)
In Everyday Miracles, Miodownik takes us on fascinating journeys through the histories of materials that let us "transform our experience of the world, explore the universe, and better understand ourselves."
The "Home" episode features materials that give us the comfort and convenience we're accustomed to within and without our domiciles. One is foam rubber, whose properties can be altered to make a variety of everyday miracles, from cushioned furniture to the food trays on airplanes. (Yup, they're made of foam rubber, not plastic.) Miodownik even makes foam rubber in the lab with two chemicals and a bit of water before taking us to a foam rubber manufacturer.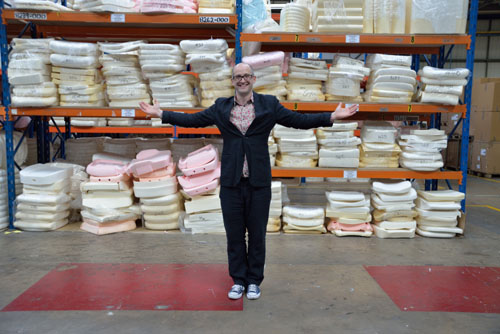 Razor blades are another modern day convenience that we likely don't think much about, except maybe when deciding between a double- or triple-bladed disposable razor. According to Miodownik, the American inventor of razor blades, King Camp Gillette (for real, that was his name), was really selling time, as Gillette had estimated that his razors saved $450 million worth of productivity per year.
Miodownik then corrects the myth that electricity prompted the surge in use of incandescent light bulbs, when the latter actually brought about the former. From there, he moves on to the chain reaction that followed, including radio and television transistors, silicon ships and semiconductors, and light-emitting diodes, better known as LEDs.
In Oxford, England, Miodownik gives us a brief tour of his alma mater, St. Catherine's College, where the renowned French/Swiss architect, Le Corbusier, helped pioneer modern architecture with his use of reinforced concrete, the material that allowed "cities in the sky" — multi-story buildings with many windows — to be built.
Miodownik closes this episode with the ubiquitous plywood and plastic, the everyday miracle materials that have been used to manufacture the likes of the Mosquito military airplane and our clothing, including nylons and tights.
Opening the "Away" episode is the segment on the bicycle. Said Miodownik, "The story of the bicycle is one of good design meeting new materials and making history." Those materials being vulcanized rubber (for pneumatic tires) and steel.
From the two-wheeled to the four, Miodownik demonstrates that automobiles wouldn't be the creature comforts they are today were it not for the invention of glass, and later safety glass. Glass has also revolutionized travel beyond the road and has allowed us to explore the galaxies. Its limits, though, such as chromatic aberrations, led to the inventions of the quartz mirror and Pyrex. (If you have children and they are big on astronomy, they will love this segment, as it features telescopes!)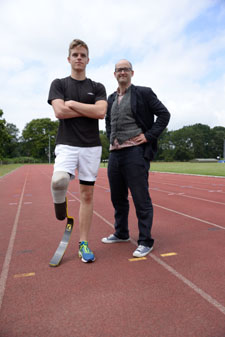 "Among one of the greatest innovations to emerge from the 20th century" is the carbon fiber composite, which has allowed lives to be transformed with prosthetics. Said Miodownik, "Carbon fiber composite has become the material of choice whenever weight, strength, and performance are important." Think sports equipment, high-performance racing cars and bikes, and airplanes.
Then Miodownik demonstrates the magic (levitation!) of magnetic fields, superconductors, and magnetic resonance imaging (MRI) scanning — "now a standard diagnostic technique, an everyday miracle."
He also states, "That final stage, manufacture, has always limited the possibilities of practical design." Enter 3D printing, "the ultimate manipulator of materials, the ultimate manufacturing tool that can be applied to almost anything." For this segment, Miodownik takes us to Nottingham University, where he chats with "perhaps the most unusual manufacturer [he's] met": a materials scientist whose "specialty is human flesh."
And lastly, Miodownik travels to the Firth of Forth in Scotland, site of the Forth Bridge and Forth Road Bridge. The former, "a wonder of its age, made possible only because of new technology producing high quality steel," allows trains to carry people and cargo from Edinburgh to Fife and back again, while the latter is a suspension bridge for automobiles, cyclists, and pedestrians. But wait, there's more! A third Forth Bridge is being built with improved technology…
Everyday Miracles is a fabulous watch, and the following stations are set to broadcast it starting 1 May 2015. Check you local listings or contact the station that serves your area for air dates and times.
(For viewers who'd like more information about broadcast carriage for Everyday Miracles, please contact the good folks at American Public Television.)
| STATE | CITY | STATION |
| --- | --- | --- |
| ARKANSAS | Arkadelphia, El Dorado, Fayetteville, Ft. Smith, Jonesboro, Little Rock, Mountain View | |
| IDAHO | Boise, Coeur d'Alene, Moscow, Pocatello, Twin Falls | |
| MONTANA | Billings, Bozeman, Great Falls, Kalispell, Missoula | |
| NEW MEXICO | Alamogordo, Carlsbad, Clovis, Hobbs, Portales, Roswell, Tucumcari | |
| NORTH CAROLINA | Asheville, Chapel Hill, Charlotte, Concord, Edenton, Greensboro, Greenville, Jacksonville, Linville, Lumberton, Raleigh-Durham, Roanoke Rapids, Wilmington, Winston-Salem | |
| OHIO | Cincinnati | |
| SOUTH DAKOTA | Aberdeen, Eagle Butte, Lowry, Martin, Pierre, Rapid City, Sioux Falls, Vermillion | |
| TEXAS | Austin | |
| UTAH | Provo | |
| VIRGINIA | Richmond | |
__________________
Add your comments on our Facebook, Google+, and Twitter pages.
Everyday Miracles: Brilliant, Kid-Friendly BBC Documentary to Air on Public TV Stations