"When Lucifer fell, he didn't fall alone." So the hunters become the hunted in Season 2 of Penny Dreadful. Ooh.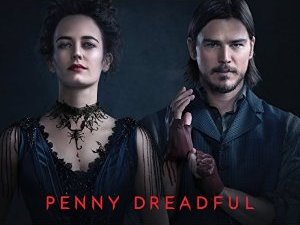 Vanessa Ives (Eva Green, Quantum of Solace), Sir Malcolm Murray (Timothy Dalton, License to Kill), and Ethan Chandler (Josh Hartnett, Lucky Number Slevin) have even darker forces to deal with when the hit horror series, Penny Dreadful,
 returns.
Victor Frankenstein (Harry Treadaway, Truckers), his creature (Rory Kinnear, Southcliffe), and Dorian Gray (Reeve Carney, The Tempest) don't have an easy time of it, either.
As for Madame Kali (Helen McCrory, Peaky Blinders)…
The second season of Penny Dreadful
premieres Sunday, 26 April 2015, at 10 PM ET, exclusively on Showtime.
__________________
Add your comments on our Facebook, Google+, and Twitter pages.
Watch: Penny Dreadful Season 2 Trailer