Amazon Pilot Season is here, and one pilot I highly recommend for Brit TV fans is the US version of Mad Dogs, which, like the original UK version, is a top-notch thriller, at least from the looks of this one episode.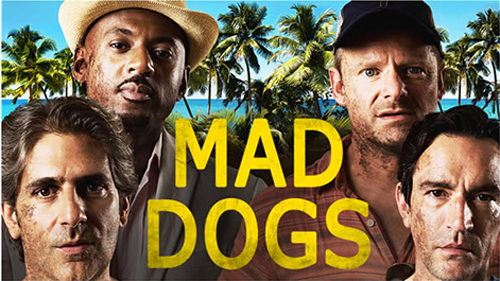 Amazon just made Hollywood history with its two Golden Globes® wins for Transparent
(Best Comedy and Best Actor for Jeffrey Tambor), and the internet retail giant-cum-film studio is amping up its competition with Netflix with a new slate of pilots, one of which could become the next Amazon Original Series program.
My pick: Mad Dogs.
This American version has much of the same look and feel, action, humor, and suspense as the British original starring Max Beesley (Hotel Babylon), Philip Glenister (Ashes to Ashes), John Simm (Life on Mars), Marc Warren (Hustle), and Ben Chaplin (World Without End), the latter of whom also costars in the remake, but rather than being set on the Spanish island of Majorca, it's set in the Central American country of Belize.
The storyline follows four under-achieving forty-something mates — Joel (Ben Chaplin), Lex (Michael Imperioli, The Sopranos), Gus (Romany Malco, Weeds), and Cobi (Steve Zahn, Treme) — who jet off to Belize for some R&R at the invitation (and expense) of the recently-retired Milo (Billy Zane, Titanic), another friend whom they haven't seen in years.
(Note that the pilot is rated TV-MA and the language in the clips is not suitable for everyone.)
But as the group's fun in the sun progresses, odd things begin to happen, and their fabulously rich old chum isn't acting so chummy anymore.
Well, unless you count his bequeathing his mansion to his friends (should anything happen to him), since he has no family. Okay, so being bossed around by Mr. I've-Made-It seems like a small price to pay for such a glorious gift.
Except when a boat ride and a bit of fishing turn into anything but fun.
Things stay tense. For Joel, he's had enough of Milo's bs. Forget the house.
But before the foursome heads for home, things come to a head between them and Milo, and secrets start spilling out.
Other things spill out, too, after a new player enters the picture, followed the next day by a local cop. There are reasons why the four can't leave, so now what do they do?
Amazon made the Mad Dogs pilot in conjunction with the UK version's writer and creator, Cris Cole, and production company, Left Bank Pictures, so much of the original's feel and flavor is in the remake. (That's a good thing.) With Illinois native Shawn Ryan (The Shield) on board as an executive producer, certain American nuances have been incorporated, and they work. Really well.
I haven't been this excited about a remake in, well, ever (or at least in recent memory… when have you ever heard/read me say/write that before?), and I am crossing my fingers that Mad Dogs makes the cut and gets picked up for a full series.
Mad Dogs is streaming for free at Amazon US
and Amazon UK
now. Check it out.
Mad Dogs (Amazon US)
Mad Dogs (Amazon UK)
__________________
Add your comments on our Facebook, Google+, and Twitter pages.
Mad Dogs: Amazon Studios Remake Does UK Original Justice