The Making of a Lady, a romantic thriller, debuted in the US roughly a year ago on PBS, so if you missed it then or want to watch it again, you can now at Netflix.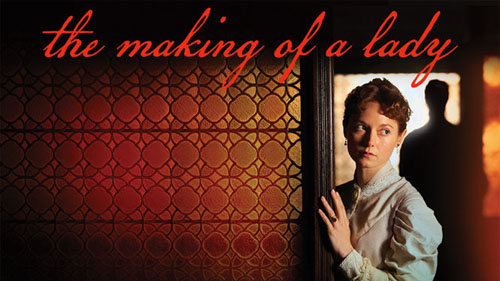 I don't know about you, but I love me some Linus Roache (Law & Order, Vikings), so it's a pity that he has less screen time than I would like in this adaptation of the Frances Hodgson Burnett novels,
The Making of a Lady and The Methods of Lady Walderhurst.
But then again, The Making of a Lady
isn't about his character, the widowed gentleman and military man, Lord James Walderhurst, but the young working-class woman he marries: Emily Fox Seton (Lydia Wilson, Ripper Street, South Riding).
The attractive and educated Emily meets James at the dinner party where his aunt and her employer, Lady Maria Byrne (Joanna Lumley, Absolutely Fabulous), wants him to choose a new wife from among the upper-crust ladies she has invited. The urgency in his marrying again is due to his inheritance: He can keep his estate as long as he has a wife and an heir; if not, he loses it to his cousin, Captain Alec Osborn (James D'Arcy, Broadchurch).
The thing is, James takes a shine to Emily. Not in a love-at-first-sight kind of way, mind you, but in a let's-be-practical one. He needs a wife and heir, she needs a home and security, especially since Lady Byrne has sacked Emily for derailing her plans.
So, they wed. Then he leaves. With James back with his regiment in India, Emily is left at the secluded mansion alone, save for the servants. Until Alec shows up unexpectedly with his wife, Hester (Hasina Haque, Casualty), to look after Emily while James is away.
The Osborns make themselves at home, and their stay starts off well enough. And soon thereafter, Emily realizes she's pregnant. Hurrah! But then things take a sinister turn.
The Making of a Lady
 isn't a great thriller, but a decent one, and it's worth checking out, if only to see D'Arcy play a very creepy Osborn. (And to see Roache, too, of course.)
__________________
Add your comments on our Facebook, Google+, and Twitter pages.
The Making of a Lady: Romantic Thriller Now on Netflix