Downton Abbey goes Hollywood when megastar George Clooney makes a guest appearance in the hit series' short for this year's ITV Text Santa special. Take a look!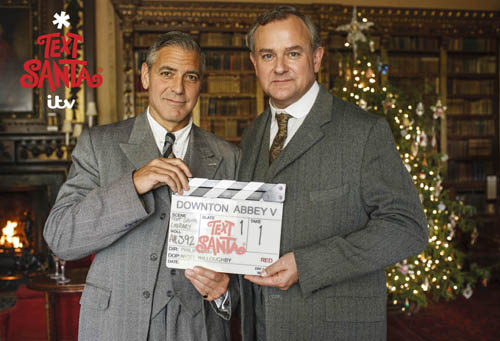 It seems that Lord Robert Crawley (Hugh Bonneville) can't catch a break. It's Christmas at Downton, and it looks like he's facing financial ruin once again. As he ponders if his family would be better off without him, divine intervention comes in the form of a heavenly body that gives Robert a view of what life would really be like without his guiding spirit.
In this nod to It's a Wonderful Life, George Clooney and several members of the Downton cast join together for a special to support ITV's Text Santa charity appeal.
For UK viewers, the three-hour fundraiser will air on ITV at 8 PM BT on Friday, 19 December 2014.
Viewers in the US will have to wait for ITV to post the video of the special online, as it will not air stateside, but should take heart that Downton Abbey: Season 5
begins screening on Sunday, 4 January 2015, at 9 PM ET on PBS Masterpiece.
__________________
Add your comments on our Facebook, Google+, and Twitter pages.
Watch: George Clooney in Teaser for Downton Abbey Text Santa Special