From the college professor who brought us the popular #TrekClass course on Star Trek comes the live and online Doctor Who #WhoClass, "Doctor Who in the Digital Age."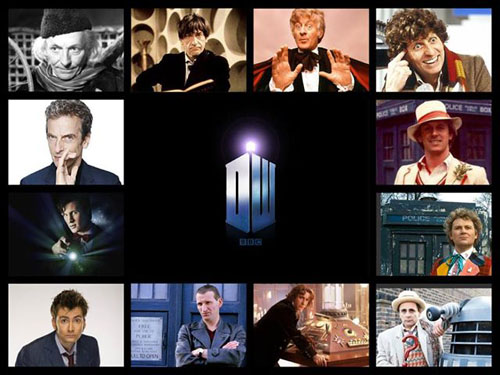 After fifty-one years and counting, classroom settings in Doctor Who will transform into a live and online one when the free, non-credit course, "Doctor Who in the Digital Age," lands on the Syracuse University campus and computers across space and time via the #WhoClass MOOC (massive open online course).
Professor Anthony Rotolo, of the S. I. Newhouse School of Public Communications at Syracuse University, will become his own version of teacher Clara Oswald or the Eleventh Doctor's John Smith when he takes students on a non-life-threatening adventure (sans TARDIS), exploring the history, evolution, and cultural impact of the BBC's Doctor Who.
(Familiarity with Doctor Who or science fiction is not required for #WhoClass, and is appropriate for Whovians and non-Whovians interested in learning about Doctor Who.)
Through lectures, real-time tweets, interactive polls, and screenings and discussions of classic
and reboot
episodes, rare clips, and lost stories, as well as assigned readings and written analyses, amongst other activities, #WhoClass will address topics that span the whole of Doctor Who history, from the identity of The Doctor
and the destruction or loss of many early episodes, to the show's endurance for more than 50 years
and its evolution as a social commentator of sorts on current affairs.
Students who attend the online version of #WhoClass will get the same content and be able to participate in the same discussions and online community as students who attend the live class at Syracuse University, with a few exceptions. MOOC students will have to get their own Jammie Dodgers
and other Who foods in order to sample them, and only in-class students will be able to win prizes, including Doctor Who memorabilia, toys, books, comics, and even 3D-printed collectibles, from the course's Trivia Challenge.
The live version of #WhoClass will meet from 6-9 PM ET on select Monday evenings from January through April 2015 on the Syracuse University main campus. Details regarding the online version will be available to course registrants.
Allons-y to the "Doctor Who in the Digital Age" webpage to register for the course.
__________________
Add your comments on our Facebook, Google+, and Twitter pages.
Doctor Who: Free #WhoClass Course at Syracuse U and Online