"Psycho killer, qu'est-ce que c'est…" C'est the stylish, gripping, and utterly brilliant psychological thriller, The Fall, which returns to Netflix US with its second series in 2015.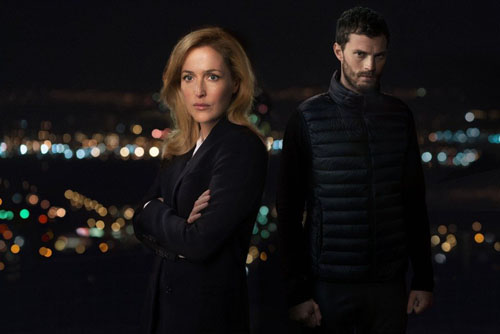 Starring Gillian Anderson (Hannibal) as the keen, dispassionate Detective Superintendent Stella Gibson, and Jamie Dornan (Fifty Shades of Grey) as bereavement counselor by day/serial killer by night Paul Spector, Series 2 of The Fall picks up where Series 1
left off, with the Met detective still on the trail of the psychopath.
After ten days on the case in Belfast, Gibson and the local detectives are no closer to catching Spector than when the hunter and hunted spoke by phone in the Series 1 finale, right before he escaped to Scotland with his family. Now time is running out, and so is the money to continue the investigation, but continue they must.
Because, according to Gibson, Spector is addicted to killing, driven in his pathology to hunt, brutalize, and murder his victims before polishing their nails and posing them just so on their beds. She knows that, until he is caught, young, brunette women in Belfast are still in danger, including his last victim, who survived the attack.
What she doesn't know is, he's back in Belfast. With his killing accoutrements.
The Fall: Series 2 premieres stateside starting at 12:01 AM PT on Friday, 16 January 2015, exclusively on Netflix US.
__________________
Add your comments on our Facebook, Google+, and Twitter pages.
The Fall: Series 2: Netflix Sets US Premiere Date