Fans of Midsomer Murders have much to look forward to when Series 16 of the hit Brit mystery drama debuts in the US next month, including a new sidekick, a new Barnaby, and the milestone 100th episode.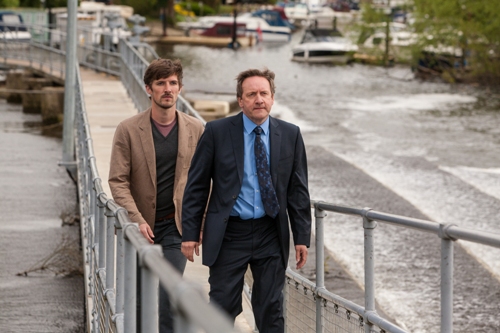 No, there isn't another new Barnaby at Causton CID. DCI John Barnaby (Neil Dudgeon, Messiah) is still on the job, as is pathologist Dr. Kate Wilding (Tamzin Malleson, Teachers). Barnaby does have a new sidekick, though: DS Charlie Nelson (Gwilym Lee, Land Girls), the replacement from London for the promoted DI Ben Jones (Jason Hughes, Waking the Dead), who's now working in Brighton.
The new Barnaby is the Barnaby baby. John's wife, Sarah (Fiona Dolman, Heartbeat), is preggers with the couple's first child, so the John-Sarah-and-Sykes trio will soon be a quartet. (Hurrah!)
But, as the saying goes, the more things change, the more they remain the same. Like the grisly and gruesome murders that occur at an alarmingly high rate in Midsomer, known as "the deadliest county in England." So, in the Midsomer Murders
16th series, the body count rises even further over the course of five episodes, including one that takes Barnaby and Nelson beyond the English countryside to Scandinavian lands.
"The Christmas Haunting" — Barnaby and Nelson investigate their first case together in Morton Shallows, the "most haunted village in England 2003." The victim: Conor Bridgeman, a married lothario stabbed twice with an antique silver sword during a "fright night" at Simon Fergus-Johnson's (Mark Heap, Lark Rise to Candleford) manor house. Did little Rose Wilton's ghost exact revenge, or was it simply murder by human hands?
At the Blacksmith's Arms pub, another ghost hunt ends with another death, this one caused by the ever-reliable blunt-force trauma to the head. In discovering the links between the two victims, the detectives must find the killer before s/he strikes again.
Guest stars include Elizabeth Berrington (Waterloo Road), Paul Blair (Taggart), Nadia Cameron-Blakey (Secret Diary of a Call Girl), Les Dennis (Coronation Street), Emily Joyce (My Hero), James Murray (Primeval), and Hannah Tointon (The Hour).
"Let Us Prey" — On a wall in the St. Claire church crypt, Rev. Martha Hillcott (Rebecca Front, Inspector Lewis) and Frank Dewar (Paul Copley, Downton Abbey) discover macabre medieval frescoes. Six months later, the body of Frank's daughter-in-law, Nancy, is found in the weir, her head covered in a sack in the same manner as a fresco image.
While Barnaby and Nelson investigate Nancy's death, the village is in danger of being flooded by rising river waters, and a second murder, and then a third, occur — seemingly bringing to life the frescoes depicting torturous death.
Guest stars include Ben Bailey Smith (Law & Order: UK), William Beck (Casualty), Gerard Horan (WPC 56), Michael Jayston (Emmerdale), Andrea Lowe (DCI Banks), and Vincent Regan (Scott & Bailey).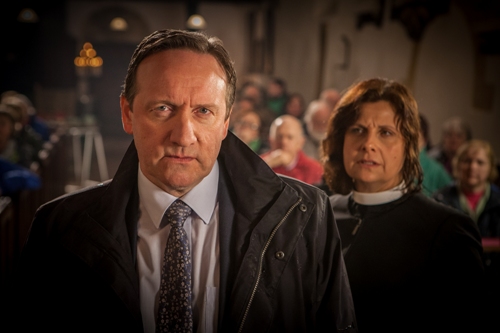 "Wild Harvest" — Martin Strickland had a bad day. His truffles were stolen. There were none for him to eat at Wyvern House, the restaurant run by bosszilla celebrity chef Ruth Cameron (Sharon Small, Mistresses) and her husband Johnny Linklater (Clive Wood, The Pillars of the Earth). And he ended up dead after being drugged, tied to a tree in the woods, covered in truffle oil… and then eaten alive by a wild boar.
From the restaurant to the pub to the butcher shop, the locals don't seem to be mourning Martin very much. Several of them, though, continue to cheat and thieve, connive and blackmail. And get murdered, too.
Guest stars include Catherine Bailey (House of Anubis), Tyger Drew-Honey (Outnumbered), Lucinda Dryzek (Life of Riley), Marc Elliott (EastEnders), Matt Kennard (Doctors), Hayley Mills (Wild at Heart), and Arabella Weir (Drifters).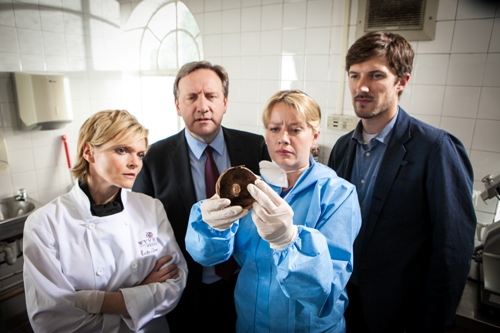 "The Flying Club" — Bernard King had a bad night. After getting knocked unconscious with a wrench, he was then pushed out of his own plane and plummeted hundreds of feet to his death. The obvious suspect is mechanic Duggie Wingate (Bernard Cribbins, Doctor Who), but Barnaby suspects the killer planted the wrench in Duggie's tool box as a ruse.
Barnaby and Nelson aren't short of other suspects, including Perry Darnley (Robert Bathurst, Cold Feet), King's business partner in Finchmere Airfield, but the list gets shorter when one of them dies in another aviation-related murder.
Guest stars include Scarlett Alice Johnson (Pramface), Phil Cornwell (Mrs. Biggs), Oliver Rix (The Musketeers), Laila Rouass (Primeval), Lex Shrapnel (Minder), Sara Stewart (Above Suspicion), and June Whitfield (Absolutely Fabulous).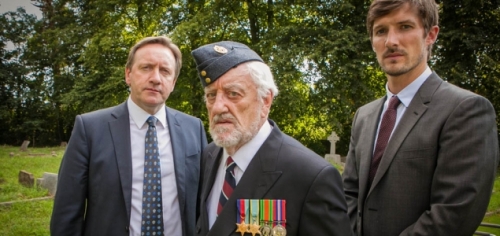 "The Killings of Copenhagen" — Midsomer Murders goes Nordic noir for the 100th episode: Eric Calder is in Copenhagen on business when he dies from strychnine poisoning after opening a tin of his company's biscuits. This prompts local detectives Birgitte Poulsen (Ann Eleonora Jørgensen, The Killing) and Anna Degn (Birgitte Hjort Sørensen, Borgen) to call Barnaby for assistance in their investigation.
When the Danish police contact him about another murder related to the Calder Biscuits company, Barnaby and Nelson fly to Copenhagen, even though Sarah's due date is just days away. Then the bodies of more victims with ties to the Calders are found. Will the English detectives gather enough evidence across the fjords and at home to discover who the killer is? And will Barnaby make it to the hospital in time for his first baby's birth?
Guest stars include Marie Askehave (The Killing), Jonathan Barnwell (Ripper Street), Sanjeev Bhaskar (The Indian Doctor), Richard Cordery (The Bill), Poppy Drayton (Father Brown), Caroline Goodall (Mrs Biggs), Nicholas Jones (Little Dorrit), Nicolaj Kopernikus (The Killing), Adrian Kukis (Judge John Deed), and Joanna Scanlan (The Thick of It).
Midsomer Murders: Series 16 premieres on 1 December 2014 exclusively at Acorn TV.
__________________
Add your comments on our Facebook, Google+, and Twitter pages.
Midsomer Murders: Series 16: New Sidekick and 100th Episode Arriving in the US