Hot diggity! Another Brit TV show that made its US debut on local public television stations has made it to streaming services. It's Father Brown, the hit BBC mystery series starring Mark Williams that is going into its third season.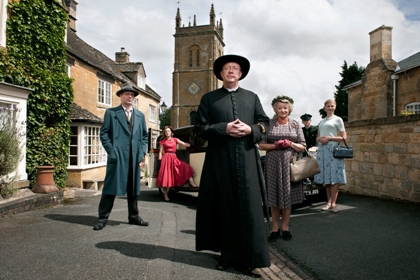 In this updated version of the Father Brown
series, based on the "Father Brown" stories
by G. K. Chesterton, Mark Williams (Harry Potter, Blandings) stars as the titular soul-saving, sweets-eating Roman Catholic priest with a penchant for solving crimes in 1950's England.
Father Brown's parish is in the fictional Cotswolds village of Kembleford, a quaint and sleepy place where murders — covered up as accidents and suicides, or not — happen more often than church fetes. Praying for souls is all well and good, but it takes sleuthing to find the culprits.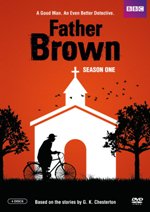 And that is exactly what the padre does, with a bit of help from his cadre, including parish secretary Mrs. McCarthy (Sorcha Cusack, Casualty), local socialite Lady Felicia Montague (Nancy Carroll, The Suspicions of Mr. Whicher), her driver Sid Carter (Alex Price, Penny Dreadful), and Father Brown's Polish housekeeper, Susie Jasinski (Kasia Koleczek, 2xl).
Too bad Inspector Valentine (Hugo Speer, The Musketeers) doesn't appreciate it. He sees Father Brown's nosing around as interfering in police matters and not helping but hindering official investigations. (He's not a bad fellow, just a tad touchy.)
Regardless, it is Father Brown who ultimately has the a-ha moments, puts two and two together, and names the killers.
Filled with guest stars — Louise Brealey (Sherlock), Selina Cadell (Doc Martin), Rod Hallett (The Tudors), John Light (WPC 56), Michael Maloney (The White Queen), Pip Torrens (Fleming), and Julian Wadham (The Iron Lady), amongst others — the first season of Father Brown
consists of ten episodes that are now available for streaming at Amazon Instant Video,
Google Play, and Vudu.
__________________
Add your comments on our Facebook, Google+, and Twitter pages.
Father Brown: Hit BBC Mystery Series Now Streaming in the US