Oh. My. Goodness. If you're looking for a Brit TV show to binge-watch this weekend, look no further than to the multiple award-winning drama, The Street.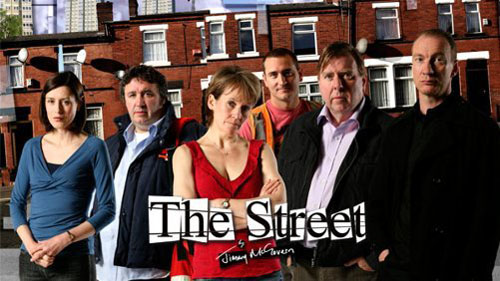 Created by Jimmy McGovern (Accused, Cracker, Hillsborough), the critically-acclaimed The Street
won 14 awards for its three seasons, including three Royal Television Society, two BAFTA, and two International Emmy awards for Best Drama Series, two International Emmy Awards for Best Performance by an Actor for Jim Broadbent and the late Bob Hoskins, and a Broadcasting Press Guild Award for Best Actress Maxine Peake.
Why all the accolades? Because The Street is a gripping, compelling, emotional roller coaster into the lives of ordinary working-class people. In a word, it is powerful. Filled with hour-long masterpieces of storytelling delivered in brilliant performances by a star-studded cast of British actors.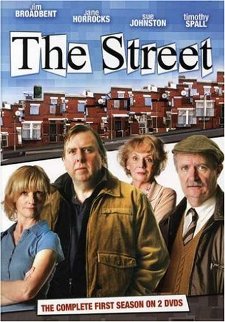 The street is a street in Manchester, unnamed until the episode "Asylum." Where residents' lives look pretty much the same from one day to the next, from the daily grind of getting the kids off to school and getting to work on time, to the daily abuse suffered at the hands of a right tosser.
Until something happens.
In Season 1,
that something is "The Accident." For Angela (Jane Horrocks, Absolutely Fabulous) and Arthur (Daniel Ryan, Mount Pleasant) Quinn, it's the singular reason for turning against neighbor Peter Harper (Shaun Dooley, Misfits), and dragging his wife, Eileen (Liz White, Life on Mars), into the mess.
For Stanley James McDermott (James Broadbent, Exile), a.k.a. "Stan," "a man you could set your clock by," and his wife of 46 years, Brenda (Sue Johnston, Waking the Dead), it's his forced retirement.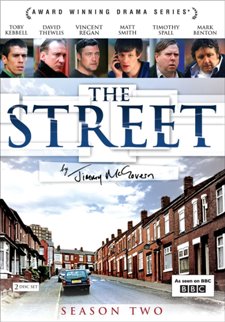 And for teacher Brian Peterson (Neil Dudgeon, Midsomer Murders), it's being accused of being a "Flasher" that wreaks havoc on him and his family, including Ann (Lindsey Coulson, EastEnders), his wife of 18 years, and their teenaged daughter and son.
For young Billy Roberts' (Jody Latham, Shameless), his "Football"-related indiscretion has tragic consequences for him and his blind dad, John (David Schofield, Da Vinci's Demons).
"In Asylum," a fare named Ojo (Jamiu Adebiyi, The Time of Your Life) alters the lives of cab driver Eddie McEvoy (Timothy Spall, Blandings) and wife Margie (Ger Ryan, Raw).
And for "Sean and Yvonne" (Lee Ingleby, George Gently, and Christine Bottomley, Land Girls), it's one instance of abuse, one beating, too many.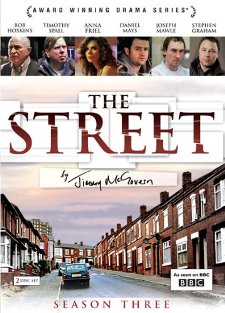 Their stories are devastating, heartwrenching, maddening. Unless you are utterly devoid of emotions, you will get angry. Really angry. You will feel helpless, and want to shake sense into people, scream the truth at them. You will and won't understand what they go through, and feel torn by your own "I get it, but…" mixed emotions.
Even for the stories with happy endings.
The stories in Season 2
feature David Thewlis (Harry Potter), Bronagh Gallagher (Pramface), Matthew Marsh (Luther), Kim Thomson (Emmerdale), Vincent Regan (Strike Back), Matt Smith (Doctor Who), Gina McKee (The Forsyte Saga), Mark Benton (Northern Lights), Oliver Stokes (Benidorm), Dean Andrews (Last Tango in Halifax), Toby Kebbell (The Escape Artist), and Jodhi May (Emma), amongst others.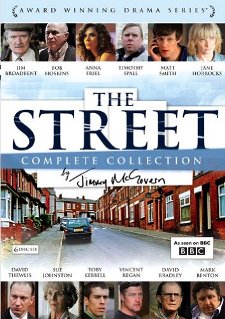 And the who's who list of actors appearing in Season 3
includes, but is certainly not limited to, Bob Hoskins (Mona Lisa), Liam Cunningham (Game of Thrones), Anna Friel (Pushing Daisies), Daniel Mays (Mrs. Biggs), Jonas Armstrong (Robin Hood), Emily Beecham (The Village), Joseph Mawle (Ripper Street), Stephen Graham (Boardwalk Empire), Maxine Peake (Silk), Ruth Jones (Stella), and Tony Rohr (Derek).

Many fans of The Street have a favorite episode. Mine is "Stan." At least for now, since I've only watched Season 1, which features Liam Boyle (Scott & Bailey), Joanne Froggatt (Downton Abbey), and Tony Maudsley (Benidorm) in supporting roles. (Whether I choose a different one after watching Seasons 2 and 3 remains to be seen.)
Which one will be your favorite?
All three seasons of The Street (18 episodes) are now streaming in the US exclusively at Hulu/Hulu Plus.
__________________
Add your comments on our Facebook, Google+, and Twitter pages.
The Street: Award-Winning Drama Series Is Must-See Brit TV