For those who enjoy a scare-your-socks-off spook-fest, the DVD for Afterlife: Series 2 is now available. (And in time for Halloween, too!)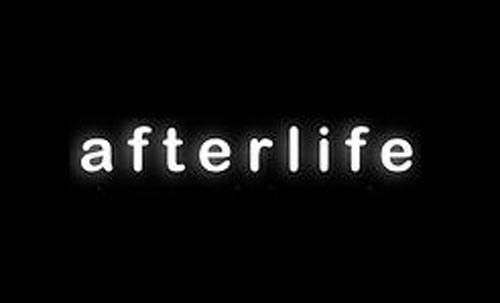 Before Lesley Sharp played the possessed Sky Silvestry in the Doctor Who episode, "Midnight," and before Andrew Lincoln began battling zombies in The Walking Dead, they costarred in the acclaimed supernatural drama, Afterlife, a three-time nominee at the Monte Carlo Television Festival.
It's been nearly a decade since Afterlife first aired on ITV and BBC America, and US fans of the drama have been waiting a figurative eternity for the second series
to be available (BBCA only aired the first). And now it is, on DVD.
Sharp stars as Alison Mundy, a psychic medium with the gift/curse of being able to communicate with the dead. Lincoln plays Robert Bridge, the skeptical college psychology professor who, at turns, dismisses and embraces her talent and challenges and encourages her desire to help people with it.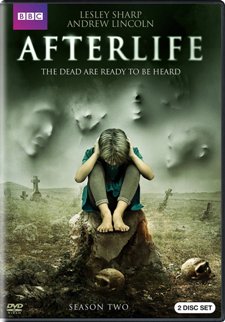 As in the first series,
the episodes in the second feature spirits of various sorts, none of which can move forward until the incompletion that holds them to the land of the living gets complete.
Such as the ghost of a car accident victim with something to tell her fellow passengers; the bogey man known as the Rat Man that is haunting prison inmates into early graves; the disembodied voice of an unknown man speaking to an infant through a baby monitor; the invisible force of a man's dead wife that possesses the body of his fiancée; the specter of a young man that appears during a young woman's intimate encounters; and even the spirit of Alison's long-dead mother, still OCD after all these years.
They need Alison to find out what each something is, so both the dead and the living can continue on in peace. (Well, most of them, anyway.)
But peace is hard to come by for Alison herself, who is still living alone and isolated at her house in the Bristol suburb of Clifton. That is, until she is called on by someone who needs her help, or by Robert (who still hasn't finished his book about her), or by spirits that continue to plague her, even at home. Then there's her estranged father…
At times, it seems as though Alison really and truly has gone mental. With no one but Robert to call a friend, she turns to him for understanding and solace, both of which are in short supply after he gets hit with some devastating news.
Afterlife
is about much more than a woman communicating with the dead. At its heart the series is about people who are flawed and damaged. People haunted by their pasts, who can barely communicate with each other, much less spirits, without some shadow coloring their judgments, interactions, and relationships, even with themselves.
Lesley Sharp is absolutely brilliant as the tortured Alison, and Andrew Lincoln does a fine job as the repressed Robert — characters as codependent on each other as the spirits are dependent on Alison.
As for the scary stuff, it can be downright terrifying, made all the more so by guest stars, including David Threlfall (Shameless), Aidan McArdle (Mr. Selfridge), and Julie Graham (The Bletchley Circle).
Unfortunately, Afterlife was canceled after Series 2, but the 14 episodes that comprise the entire series are so gripping that they warrant repeat watching.
Afterlife: Series 1
Afterlife: Series 2
__________________
Add your comments on our Facebook, Google+, and Twitter pages.
Afterlife: Second Series of Seriously Spooky Supernatural Drama Now on DVD