DCI Banks fans, your wish for a fourth series of the crime drama has been granted.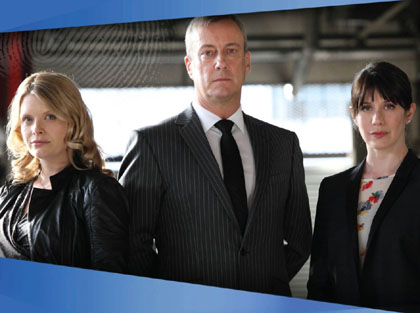 ITV confirmed today that Steve November, Director of Drama, and Jane Hudson, Head of Drama Series, recommissioned DCI Banks,
the Yorkshire-based detective drama that has been a huge hit on both sides of the pond.
Stephen Tomkinson (Truckers, Wild at Heart) returns as DCI Alan Banks, with Andrea Lowe (Inspector Lewis, Monroe) costarring as DS Annie Cabbot and Caroline Catz (Doc Martin, Murder in Suburbia) as DI Helen Morton, in three original stories inspired by Peter Robinson's
series of "Inspector Banks" novels.
"What Will Survive" centers on a young woman found buried alive and her connections to a man, his autistic son, and a family that seems to have silenced the town. Outside the case, Banks' life is turned upside down by tragic events in his own family. Written by Nicholas Hicks-Beach (Law & Order: UK, EastEnders), the story features Keith Barron (Coronation Street) and Polly Hemmingway (Wallander), who reprise their roles as Arthur and Ida Banks, Alan's parents (from Series 2's "Strange Affair").
"Home," written by Noel Farragher (Inspector Lewis, Above Suspicion 2: Deadly Intent), revolves around an unfolding tragedy: the death of a young math teacher, deliberately run over by a car outside his school, and the suspicions of his Muslim girlfriend, who believes her father and cousin committed the crime, since they disapprove of both her relationship with him and her having left her husband from an arranged marriage.
And in "Ghosts," written by Paul Logue (Midsomer Murders, Death In Paradise), Morton's past comes back to haunt her and her career is threatened after a former police force flame implies he is being framed and pleads for her help soon before he is killed under mysterious circumstances.
What about the on/off romance between Banks and Cabbot? Not to worry. This gets explored further in the Series 4, too.
DCI Banks
is produced by Left Bank Pictures (Wallander, Zen), and filming of the six hour-long episodes (which will likely be shown as three 90-minute ones in the US) begins later this month in Yorkshire.
__________________
Add your comments on our Facebook, Google+, and Twitter pages.
DCI Banks: Hit Crime Drama Returning for Fourth Series