The 2014 Doctor Who Christmas special is now in production, and BBC announced today the guest stars for the episode being billed as "an action-packed, unmissable adventure."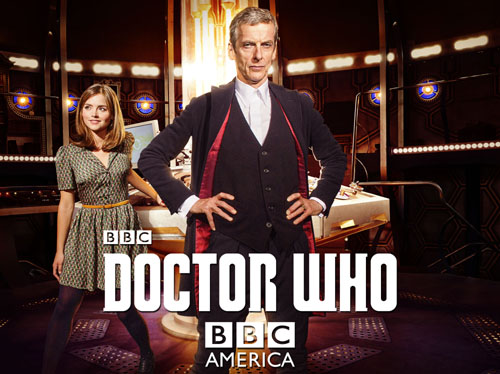 First up: Nick Frost, whose acting credits include but are not limited to The World's End, Shaun Of The Dead, Hot Fuzz, Mr. Sloane, Hyperdrive, Man Stroke Woman, and Spaced.
Frost enthused, "I'm so thrilled to have been asked to guest in the Doctor Who Christmas Special, I'm such a fan of the show. The read-through was very difficult for me; I wanted to keep stuffing my fingers into my ears and scream 'No spoilers!' Every day on set I've had to silence my internal fan-boy squeals!"
Said Steven Moffat, lead writer and executive producer of Doctor Who, "Frost at Christmas – it just makes sense! I worked with Nick on the Tintin movie many years ago and it's a real pleasure to lure him back to television for a ride on the TARDIS."
Joining Frost are Michael Troughton (Breathless, The New Statesman), son of Patrick Troughton, who played the second incarnation of the Doctor in the classic series; Natalie Gumede (Coronation Street, Ideal); Faye Marsay (The White Queen, Fresh Meat); and Nathan McMullen (Misfits, Casualty),
The Doctor Who Christmas special will air on 25 December 2014 on BBC One in the UK and BBC America in the US.
__________________
Add your comments on our Facebook, Google+, and Twitter pages.
Doctor Who Christmas Special Guest Stars Announced