PBS made several program announcements during the Summer 2014 TCA Press Tour yesterday, not the least of which were about the British shows scheduled for 2015.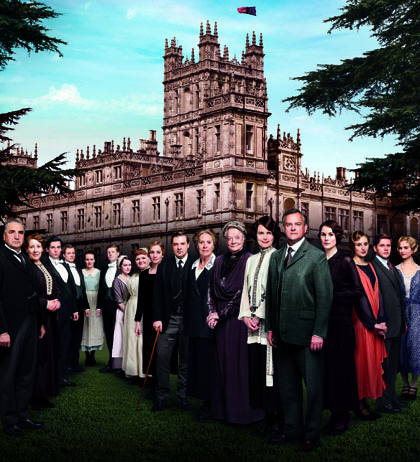 Curious minds want to know, "When will the fifth season of Downton Abbey premiere in the US?" The answer is Sunday, 4 Janaury 2015, so fans who have been hoping that PBS CEO Paula Kerger would change the schedule for the series and debut it closer to its UK air dates will be disappointed.
Given that this scheduling tactic has led to Downton's annual rise in the ratings — to a high of 10.2 million viewers for Season 4,
which made the period drama PBS' highest-rated program ever — it's hard to argue with the business logic for delaying the start date (and thus avoiding conflict with the openers of other networks' Fall season programs), not that this makes fans feel any better.
In other program news, Kerger also announced that the premiere date for the fourth season of Call the Midwife
is Sunday, 29 March 2015. With midwife Jenny Lee having left Nonnatus House at the end of Season 3 to pursue a calling in working with the terminally ill, Trixie, Chummy, Cynthia, Patsy, and the nuns will have new nurses to help care for the mums-to-be and others of Poplar's residents in the upcoming season,
As for other PBS Sunday night staples, the third season of Mr. Selfridge
will debut in 2015, although we don't know exactly when just yet, and the fourth season of Sherlock
won't screen until 2016. However, if PBS airs the much-anticipated Sherlock Christmas special during the 2015 holiday season as the BBC will, then at least we'll have something to help tide us over. Well, if you don't count the next year and a half, anyway.
__________________
Add your comments on our Facebook, Google+, and Twitter pages.
PBS Sets 2015 Dates for Downton Abbey and Call the Midwife