PBS is the place for back-to-back Brit TV this Sunday, when the public television network premieres the second series of both the beloved family drama Last Tango in Halifax and popular mystery drama Endeavour and the first series of hit Britcom Vicious in the US.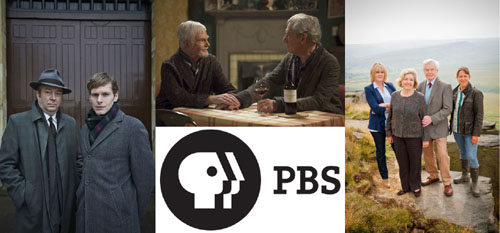 Last Tango in Halifax: Series 2
Get ready for the lovin', touchin,' squeezin', argy-bargies, and more when the second series of hit drama Last Tango in Halifax
makes its stateside debut.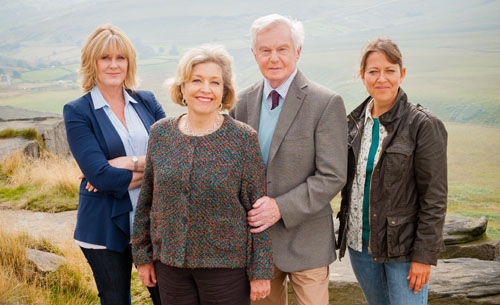 Derek Jacobi (Cadfael) and Anne Reid (Upstairs Downstairs) return as septuagenarian lovebirds Alan and Celia, who pick up the pace with their wedding plans in the series opener. And when some of Gillian's (Nicola Walker, MI-5) secrets spill out, she has more than mopping up to do with Celia's daughter Caroline (Sarah Lancashire, The Paradise) and brother-in-law Robbie (Dean Andrews, Life on Mars), amongst others.
Meanwhile, Caroline decides to move her relationship with Kate (Nina Sosanya, Silk) to the next level while the drunken shenanigans of ex-husband John (Tony Gardner, Lead Balloon) and his sometimes lover Judith (Ronni Ancona, Hope Springs) continue to do her head in.
All that is just for starters. There are five more episodes chock-full of the blended-family dramas that have made Last Tango in Halifax such a favorite with viewers on both sides of the pond.
Last Tango in Halifax: Series 2
 premieres Sunday, 29 June 2014, at 8 PM ET on PBS. Check your local listings.
Endeavour: Series 2
Endeavour
— the prequel that brought the character of Morse back to the screen 25 years after his first appearance — returns for its second series with stars Shaun Evans (The Last Weekend) as Detective Constable Endeavour Morse and Roger Allam (The Politician's Husband) as Morse's superior, Detective Inspector Fred Thursday.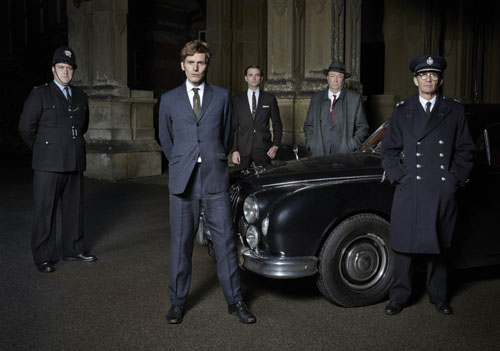 In the first of four new feature-length episodes written by series creator Russell Lewis, "Trove" finds Morse returning to work following the death of his father and investigating three seemingly unrelated events: a man's apparent suicide, the disappearance of a young woman, and the theft of ancient artifacts.
Other cast members reprising their roles for "Trove," "Nocturne," "Sway," and "Neverland" include Anton Lesser (The Escape Artist) as Chief Superintendent Bright, Jack Laskey (Hatfields & McCoys) as DS Jakes, Sean Rigby as PC Strange, James Bradshaw (Oliver Twist) as pathologist Dr. DeBryn, and Abigail Thaw (Agatha Christie's Poirot) as newspaper editor Dorothea Frazil.
Endeavour: Series 2
premieres Sunday, 29 June 2014, at 9 PM ET on PBS. Check your local listings.
Vicious: Series 1
Love is a many splendored thing and lovers can be vicious, particularly when they have been together for nigh on half a century.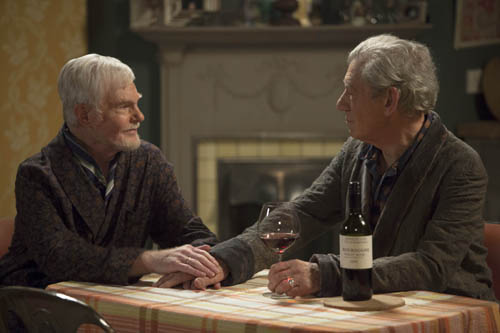 The Britcom Vicious
brings together two megastars of stage, film, and television — Derek Jacobi (I, Claudius) and Ian McKellen (The Lord of the Rings) — as former barman Stuart Bixby and bit actor Freddie Thornhill, long-time partners who show their affection through sarcastic asides, barbed comments, and even veiled threats. They also hold hands and hug. (Aww.)
They don't spare others from their verbal jabs, either, including man-crazy Violet (Frances de la Tour, The History Boys), hot new neighbor Ash (Iwan Rheon, Game of Thrones), dotty Penelope (Marcia Warren, The Café), and equally acerbic Mason (Philip Voss, Inspector Morse).
Relationships gone awry, bruised egos, and schadenfreude make for laughs in the series' six half-hour episodes. Ditto the one-sided dialogue of conversations with Stuart's mum.
Vicious: Series 1
premieres Sunday, 29 June 2014, at 10:30 PM ET on PBS. Check your local listings.
—————————
New Endeavour, Last Tango in Halifax, Vicious This Sunday