In the realm of crime dramas, noir is the new black, and the latest series of Line of Duty is as dark and gripping from start to finish as any of the Nordic Noir programs that have crossed the fjords.
Line of Duty: Series 2
completed its run in the UK last night, bringing to a close one of the most talked about BBC Two detective dramas, well, since Series 1 debuted on the channel nearly two years ago. Now that the second series is about to screen in the US, there are several spoiler-free things worth noting before tuning in.
Jed Mercurio, the creator, writer and executive producer of Line of Duty, has offered up a first-rate whodunit with Series 2 — one with so many twists and turns that some viewers in the UK became armchair detectives to keep track.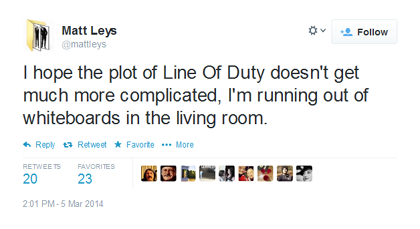 The plot centers on the ambush of a police convoy in which three officers are killed and only the protected witness and DI Lindsay Denton (Keeley Hawes, Ashes to Ashes) survive. Evidence indicates an officer leaked information about the convoy and Denton is the prime suspect. Investigating her are DS Steve Arnott (Martin Compston, Ice Cream Girls), DC Kate Fleming (Vicky McClure, Broadchurch), DC Georgia Trotman (Jessica Raines, Call the Midwife), and Superintendent Ted Hastings (Adrian Dunbar, Suspicion) of anti-corruption unit AC-12.
As the investigation continues, the plot thickens. The case against Denton opens a Pandora's box — answers lead to more questions, skeletons begin falling out of closets (figuratively speaking), and nearly nothing is as it seems at first blush.
In this decidedly unglamorous role, Hawes is utterly brilliant as the drab, intelligent and isolated anti-heroine Denton. Awards season should bring her multiple Best Actress in a TV Drama nominations, if not the awards themselves, for her tour de force performance.
Performances by other cast members are also superb, notably Mark Bonnar's (Paradox) portrayal of the "ruthlessly ambitious" and I-have-the-power-to-crush-you-and-don't-you-forget-it Deputy Chief Constable Mike Dryden.
In addition to Compston, McClure and Dunbar, other actors in Series 1 also reprise their roles in Series 2. (Watch Series 1 exclusively on Hulu to find out who they might be.)
Characters and storylines are intricately intertwined, and everything builds from one episode to the next, right up to the finale. For maximum enjoyment, it's best to avoid spoilers.
Speaking of, the BBC issued a blackout (i.e. no advanced viewing amongst cast, crew and journalists) of the Series 2 finale to prevent spoilers. One person who knew the ending in advance was actor Matthew Macfadyen, Hawes' husband. According to her, he wished he hadn't known. (See what I mean about spoilers?)
Series 2 has been so well received by UK viewers and critics that the BBC is expected to announce shortly the commission of a third series of Line of Duty, which could include a move to flagship channel BBC One.
Line of Duty: Series 2 screens in the US exclusively on Hulu and Hulu Plus beginning Saturday, 22 March 2014. I have been told that subscribers to Hulu Plus will have access to all six hour-long episodes when the program premieres, while viewers who use the free Hulu service will be able to watch the first two episodes on launch day and subsequent episodes on a weekly basis thereafter.
—————————
10 Things to Know About Line of Duty: Series 2