Good news, crime drama fans! ITV has confirmed that it has commissioned DCI Banks for a third series. (Hooray!)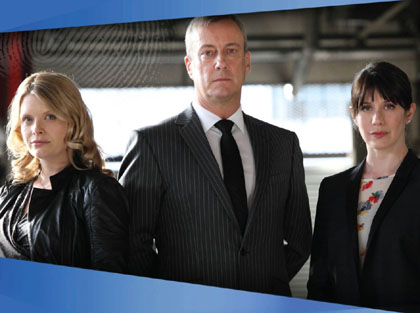 DCI Banks: Series 3 will consist of six hour-long episodes, two episodes each for three stories — "Wednesday's Child," "Piece of My Heart" and "Bad Boy" — based on the Inspector Alan Banks novels
by bestselling crime writer Peter Robinson, and starring Stephen Tomkinson, Andrea Lowe, and Caroline Catz.
Banks (Tompkinson, Wild at Heart, In Deep) now has both DS Annie Cabbot (Lowe, Route Irish, Murphy's Law) and DI Helen Morton (Catz, Doc Martin, Murder in Suburbia) on the job, and his daughter, Tracy, in his day-to-day life since she dropped out of college. (Each detective can be a handful on her own, but both together and his daughter? The plot thickens.)
Cabbot has returned from maternity leave, and there's no rest for the weary as the new single mother is thrown into a "harrowing case." Then there's her relationship with Banks and the question of whether they can make a go of things romantically. Morton is still inflexible at work and at home, and socially clueless besides, so it will be interesting to see how she and Cabbot get on and if she learns to bend a bit in her ways.
As for the stories, a "strange and sinister child abduction undertaken by a man and a woman claiming to be social workers" is the focus of "Wednesday's Child." In "Piece of My Heart," "the body of a journalist in a remote village connects Banks to a death in the 1980s revolving around the surviving members of a cult band." And in "Bad Boy," "a terrible chain of events is set in motion by the discovery of a loaded gun in a young girl's bedroom that ultimately puts Banks' daughter in mortal danger."
Filming begins this August in Yorkshire, and the program is expected to air in the UK in early 2014. Fingers crossed that local PBS stations will once again pick up the program in the States. Better yet, it would be fabulous if PBS added DCI Banks: Series 3 to its Masterpiece: Mystery! schedule for Summer 2014!
UPDATE: The first two series of DCI Banks were ratings bonanzas for local PBS member stations and independent public television stations. In many markets, ratings for them were nearly double (meaning twice the number of viewers) than for programs that had previously aired in the same time slot.
Most (if not all) of them have picked up Series 3, and several more stations have added all three series to their programming schedules.
Here is the complete list of public television stations for DCI Banks.
| STATE | CITY | STATION |
| --- | --- | --- |
| Arizona | Phoenix | |
| Arizona | Tucson | |
| Arkansas | Arkadelphia, El Dorado, Fayetteville, Jonesboro, Little Rock, Mountain View | |
| California | Fresno | |
| California | Los Angeles | |
| California | San Diego | |
| California | San Francisco/Oakland, San Jose | |
| Colorado | Denver, Durango, Grand Junction, Pueblo/Colorado Springs, Steamboat Springs | |
| Connecticut | Bridgeport, Hartford, New Haven, Norwich | |
| District of Columbia | Washington, DC | |
| Florida | Jacksonville | |
| Florida | Miami | |
| Florida | Miami/Ft. Lauderdale/West Palm Beach | |
| Florida | Pensacola | |
| Florida | Tallahassee | |
| Florida | Tampa | |
| Georgia | Athens/Atlanta, Chatsworth, Cochran/Macon, Columbus, Dawson, Pelham/Albany, Savannah, Waycross, Wrens/Augusta | |
| Georgia | Atlanta | |
| Idaho | Boise, Coeur d'Alene, Moscow, Pocatello, Twin Falls | /td> |
| Illinois | Chicago | |
| Indiana | Indianapolis | |
| Kansas | Topeka | |
| Kentucky | Ashland, Bowling Green, Concinnati/Covington, Elizabethtown, Hazard, Lexington, Louisville, Madisonville, Morehead, Murray, Owensboro, Owenton, Paducah, Pikeville, Somerset | |
| Louisiana | Alexandria, Baton Rouge, Lafayette, Lake Charles, Monroe, Shreveport | |
| Maine | Augusta, Biddeford/Portland, Calais, Orono, Presque Isle | |
| Maryland | Annapolis, Baltimore, Frederick, Hagerstown, Oakland, Salisbury | |
| Massachusetts | Boston | |
| Michigan | Detroit | |
| Michigan | Grand Rapids | |
| Minnesota | Minneapolis/St. Paul | |
| Mississippi | Biloxi, Booneville, Bude, Greenwood, Jackson, Meridian, Oxford, Starkville | |
| Missouri | Kansas City | |
| Missouri | St. Louis | |
| Nebraska | Alliance, Bassett, Hastings, Lexington, Lincoln, Merriman, Norfolk, North Platte, Omaha | |
| Nevada | Las Vegas | |
| New Hampshire | Durham, Keene, Littleton | |
| New Jersey | Camden, Montclair, New Brunswick, Trenton | |
| New York | Albany/Schenectady/Troy | |
| New York | Binghamton | |
| New York | Buffalo | |
| New York | Garden City/New York City | |
| New York | Plattsburgh | |
| New York | Rochester | |
| North Carolina | Asheville, Chapel Hill/Raleigh-DurhamCharlotte/Concord, Edenton/Columbia, Greenville, Jacksonville, Linville, Lumberton, Roanoke Rapids, Wilmington, Winston-Salem/Greensboro/High Point | |
| Ohio | Akron, Cleveland, Youngstown | |
| Ohio | Cleveland | |
| Ohio | Columbus | |
| Ohio | Dayton/Portsmouth | |
| Oklahoma | Tulsa | |
| Oregon | Bend, Corvallis, Eugene, La Grande, Portland | |
| Pennsylvania | Philadelphia/Allentown | |
| Rhode Island | Providence | |
| Tennessee | Memphis | |
| Texas | Austin | |
| Texas | Dallas | |
| Texas | Houston | |
| Texas | San Antonio | |
| Utah | Provo | |
| Utah | Salt Lake City | |
| Vermont | Burlington, Rutland, St. Johnsbury, Windsor | |
| Washington | Seattle | |
| Washington | Spokane | |
| West Virginia | Grandview, Bluefield-Beckley, Huntington, Morgantown | |
| Wisconsin | Green Bay, La Crosse, Madison, Menomonie (Eau Claire), Park Falls, Wausau | |
| Wisconsin | Milwaukee | |
—————————
"DCI Banks" Returning for Third Series [UPDATED]