It's the start of a new week, so what better time to start a new series here at The British TV Place. "British TV Actors' Signature Roles" will look at just that, and we begin this series with an actor who has had several to date: Peter Davison.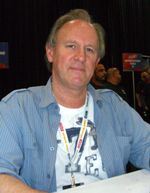 Davison's still-going-strong career in television began in the 1970's, and over the course of nearly 40 years he's appeared in more than 40 TV series and movies.
It was in 1978 that viewers first came to know the character Tristan Farnon, the first of Davison's signature roles, in the drama series All Creatures Great and Small. With his youthful good looks and charm, Davison portrayed the irresponsible, mischievous, yet good-at-heart student veterinary surgeon brilliantly, and it's no wonder that he became a household name in the UK as a result.
Then Davison became a cult hero as The Fifth Doctor in Doctor Who, arguably the signature role of his signature roles. After being introduced as the regeneration of Tom Baker's Fourth Doctor at the end of "Logopolis" in 1981, he began his three-season run as the Time Lord in 1982 in the episode "Castrovalva."
Davison's Doctor was more sensitive and vulnerable, less eccentric and decisive, and equally as heroic as his predecessors', which, for me at least, made him seem more relatable and accessible. Here's what other Whovians and Davison himself say about The Fifth Doctor and Davison's portrayal of him.
As noted in the video, "The Caves of Androzani" was Davison's last regular appearance on Doctor Who (a must see, imo), but not his last appearance as The Doctor. One of my favorites was in the special mini-episode, "Time Crash," which aired in 2007 as part of BBC One's Children In Need telethon. In it The Fifth Doctor and The Tenth Doctor (Davison's real-life son-in-law David Tennant) meet when their respective TARDISes merge. It's brilliant.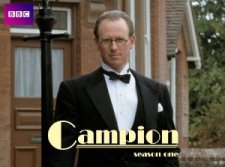 Several years and roles later came Davison's third signature role, that of Albert Campion in Campion, the BBC's mystery series based on the novels by Margery Allingham. While other actors had portrayed the character in earlier television adaptations, Davison is absolutely delightful as the affable and pseudonymous aristocrat private detective, and I can't imagine anyone else in the role.
More television series and film roles followed, and a decade after the last of the Campion episodes aired, Davison played David Braithwaite, the first of his signature roles as a philandering prat of a husband, in the dramedy series At Home with the Braithwaites.
Then directly on the heels of Braithwaites was The Last Detective, in which Davison portrayed Detective Constable "Dangerous" Davies. This fifth of his signature roles is another that I can't imagine another actor playing. Although disrespected by his boss, fellow detectives, and estranged wife, Dangerous is immensely likable, a credit to Davison and the heart and humanity with which he infuses the character.
Since 2011 Davison has been a regular cast member of Law & Order: UK, playing Henry Sharpe, the Director of the London Crown Prosecution Service. (The show costars another Doctor Who alum, Freema Agyeman, who played The Tenth Doctor's companion, Martha Jones, in the reboot Season 3). Will this become another signature role for Davison? Stay tuned.
—————————
British TV Actors' Signature Roles: Peter Davison