Get ready, British TV fans. The BAFTA TV Award-winning series, Misfits, is returning this Fall for its fourth season and will be shown exclusively on Hulu/ in the U.S.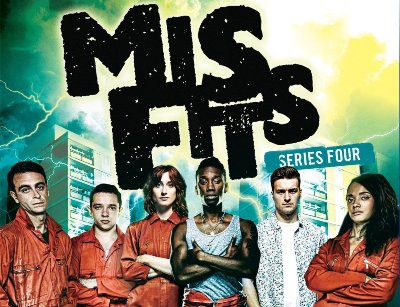 Created by British TV writer Howard Overman (Hotel Babylon, Hustle, Merlin, New Tricks, Vexed), Misfits follows a group of young offenders who, while doing mandated community service, are struck by lightning during a freak storm and develop super-human powers as a result. Here's the rub: They weren't the only ones.
Misfits
is a brilliant show (and this from someone who usually isn't keen on youth-oriented programs). It is at times hilarious, dark, and titillating, and pretty exciting throughout. The characters feel real, and they speak and act like it, too. Profanity is par for the course, and nudity and sex, well… let's just say the rating is TV-MA for a good reason. That said, the script is spot-on and the special effects are sharp.
It will be interesting to see what happens during Season 4, since three of the original actors have left the show. Iwan Rheon (Caerdydd) joined the cast of Game of Thrones, and Lauren Socha (The Unloved) and Antonia Thomas have gone on to other things. In their stead will be Karla Crome (Hit & Miss) as Jess, Nathan McMullen (Shameless) as Finn, and Matt Stokoe (The Borgias) as Alex, joining Nathan Stewart-Jarrett (Casualty) and Matthew McNulty (Single-Handed).
In addition to the show itself, another cool thing about Misfits is that Hulu will stream Season 4 in the U.S. while it airs on E4 in the UK. Unlike most British TV imports, we won't have to wait until the program finishes its run there to be able to watch it here. I, for one, am thrilled, because I really enjoy Misfits.
If you haven't seen Misfits, the full-length video of Season 1, Episode 1 is above. You can stream the rest of Seasons 1-3 episodes Hulu and Amazon Instant Video before Season 4 begins this Fall (premiere date TBA).
—————————
Hulu Exclusive: New Season of Misfits