Prime Video announced today the global premiere date for its new high school romantic comedy film How to Date Billy Walsh.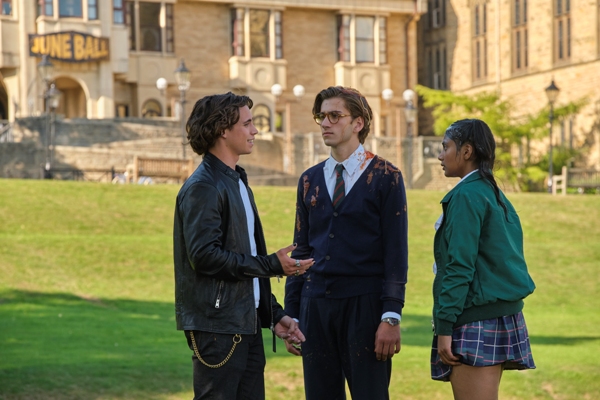 How to Date Billy Walsh revolves around the teen love triangle of Amelia, Archie, and Billy.
Amelia (Charithra Chandran, Alex Rider, Bridgerton) and Archie (Sebastian Croft, Heartstopper, Game of Thrones) have been best friends since childhood. Archie has always been there to fight Amelia's battles and laugh at her jokes, all while keeping his lifelong love for her a secret. Just when he builds up the courage to declare his feelings, Amelia falls head over heels for Billy Walsh (Tanner Buchanan, Cobra Kai, Designated Survivor), the new American transfer student. Heartbroken, Archie goes to great lengths to try and keep Amelia and Billy away from each other, but ends up pushing them closer together and risks losing his best friend in the process.
How to Date Billy Walsh, an Amazon Original Film, premieres globally on Friday, September 8, exclusively on Prime Video.
The cast includes Kunal Nayyar (The Big Bang Theory), Nick Frost (Truth Seekers), Guz Khan (Man Like Mobeen), Lucy Punch (Motherland), and Daisy Jelley (London Kills).
Directed by Alex Sanjiv Pillai (Bridgerton) from a script by Alexander J. Farrell (Making a Killing) and Greer Ellison (Hope Street), the movie is produced by Matt Williams (Save the Cinema) with co-producer Neil Jones (The Colour Room), both of Future Artists Entertainment. Executive producers include Piers Tempest (Military Wives), Merlin Merton, and Sebastian Street (Tomorrow).
__________________
As an affiliate of Amazon and other cos, affiliate links on this blog allow us to earn income from qualifying actions (at no extra cost to you).

How to Date Billy Walsh: Prime Video Sets Premiere Date for New Teen Romantic Comedy Film