Happy Valley, hands down one of the best British crime dramas ever, comes to a close with Season 3, which set to launch in the US tomorrow.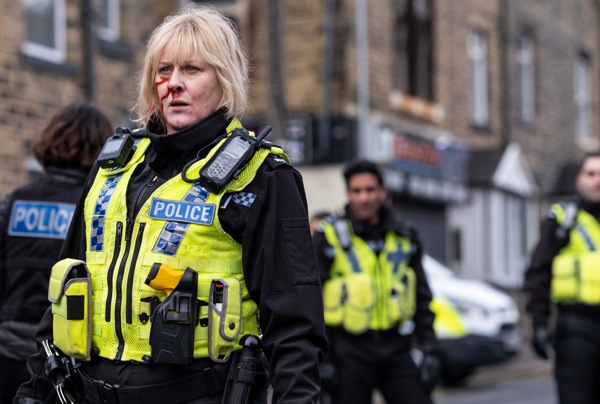 It has been worth every bit of waiting, this. I mean, of course, the third and final season of Happy Valley, which, after seven years, brings us back to Halifax, West Yorkshire, and the beat of Police Sergeant Catherine Cawood, played by the incomparable Sarah Lancashire (Julia, Last Tango in Halifax), who brought home several awards, including a BAFTA TV Award, for her portrayal of the dedicated, no-nonsense cop and fiercely-loving and -protective mother, grandmother, and sister.
For all three seasons of Happy Valley, one of the things I've appreciated greatly about the writing of series creator Sally Wainwright, herself a four-time BAFTA TV Awards winner, is her ability to inject seamlessly bits of humor into otherwise grey or emotionally-heavy scenes. Such is the case with the information-relaying conversation that Catherine has with DSU Andy Shepherd (Vincent Franklin, Gentleman Jack) and the aside that follows, both of which happen at the crime scene that kicks off the storylines in the final season.
We're now seven years on from the events in Season 2. Following a call from the police dispatcher, Catherine, who is set to retire in seven months, heads to an area reservoir, the draining of which has unearthed the skeletal remains of a man whom Catherine (correctly) identifies as the victim of a gangland hit. (Such are her police skills.) The police later arrest rapist and all-around vicious psychopath Tommy Lee Royce (James Norton, McMafia, Rogue Agent) for the murder.
Six months later, Catherine and members of her team are conducting door-to-door inquiries regarding the unexplained death of a young woman when she runs into Alison Garrs (Susan Lynch, Unforgotten), a woman Catherine had arrested (in Season 2), who has been released from prison and is moving into the building where the deceased had lived. They develop a friendship that turns out to be helpful in ways neither of them expects.
At about the same time, Catherine also learns that her grandson, Ryan (Rhys Connah, The Runaways), now 16 years old, has been visiting Tommy, the man she still refuses to acknowledge as Ryan's father, in prison. What the what?!? Yes. And it sets off tensions in the Cawood family like nobody's business. Ryan also has issues at school, not related to Tommy or academics but with his football coach, Rob Hepworth (Mark Stanley, Sanditon), a man with a hair-trigger temper. And Tommy, already serving a life sentence, must deal with much more than his hearing at Leeds Crown Court on the murder charge. He is eager to build further his relationship with Ryan, and has a plan to make this happen…
Meanwhile, the drug problem in the valley continues. A situation arises that causes Catherine to arrest Rob's wife, Joanna (Mollie Winnard, All Creatures Great and Small), as pharmacy manager Faisal Bhatti (Amit Shah, The Other One) is being threatened from all sides.
Before long, dead bodies will litter parts of West Yorkshire and some measure of justice will be served before Catherine bids farewell to it all and heads off to parts unknown.
Season 3 does not disappoint. From all the action that leads up to the final face-to-face between Catherine and Tommy, to Catherine's final gift, as it were, to the police at her retirement, the ways in which Sally Wainwright weaves together the seemingly separate-yet-connected strands is brilliant.
So, too, are the performances of the cast, including Siobhan Finneran (The Other One) as Catherine's sister, Clare; Derek Riddell (Frankie) as Catherine's ex-husband, Richard; Con O'Neill (Cobra) as Clare's partner, Neil; and Charlie Murphy (Peaky Blinders) as Ann Gallagher, partner of Catherine's son, Daniel (Karl Davies, Chernobyl), and one of Tommy's victims.
Happy Valley: Season 3 premieres in the US tomorrow, Monday, May 22, exclusively on Acorn TV, AMC+, and BBC America (at 10 PM ET/PT). New episodes will debut weekly on all three networks through June 26.
__________________
As an affiliate of Amazon and other cos, affiliate links on this blog allow us to earn income from qualifying actions (at no extra cost to you).

Happy Valley: Third & Final Season of Excellent Crime Drama Is Must-See TV