Apple TV+ has set the premiere date for Season 2 of its award-winning natural history documentary event Prehistoric Planet. Check out the teaser!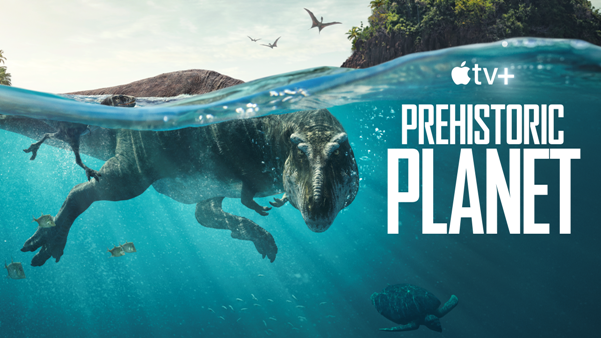 Season 2 of Prehistoric Planet continues to bring Earth's history to life like never before, as the award-winning series presents new dinosaurs, new habitats, and new scientific discoveries while taking viewers around the world in an epic five-night, week-long adventure.
Prehistoric Planet: Season 2 premieres globally on Monday, May 22, with a new episode debuting daily through Friday, May 26, exclusively on Apple TV+.
Narrated by Sir David Attenborough, the new episodes transport viewers millions of years in the past to discover our world — and the dinosaurs that roamed it — all in extraordinary detail. Traversing the globe to a land before our time, the series uses the latest scientific research and stunning visual effects to bring audiences never-before-seen species on-screen, including notable dinosaurs that are new this season:
Isisaurus — An Indian sauropod (long-necked, plant-eating dinosaur) that made their home in an extreme volcanic region known as the Deccan Traps, laying eggs in volcanic heated terrain.
Pectinodon — A fierce hunter and fond parent, this bird-like North American feathered dinosaur was part of the troodontid family. A sharp-clawed, long-legged predator, it was an adaptable hunter, its teeth and jaws suggesting that many sorts of small animals would have been on the menu.
Quetzalcoatlus and Hatzegopteryx — The biggest creatures ever to soar the skies, these gargantuan pterosaurs (prehistoric flying reptiles) were the size of a giraffe or small aircraft and are some of Prehistoric Planets most charismatic characters.
Tarchia — One of the largest Ankylosauri (armored dinosuars).
Prehistoric Planet combines award-winning wildlife filmmaking, the latest paleontology learnings, and state-of-the-art technology to unveil the spectacular habitats and inhabitants of ancient Earth for a one-of-a-kind immersive experience. The series is produced by the world-renowned team at BBC Studios Natural History Unit (Planet Earth, Blue Planet II) with support from the photorealistic visual effects of MPC (The Lion King, The Jungle Book) applied to concept art created by Jellyfish Pictures (The Book of Boba Fett, Spirit: Untamed).
The theme music is by Hans Zimmer and Andrew Christie for Bleeding Fingers Music, with the original score by Zimmer, Anže Rozman, and Kara Talve for Bleeding Fingers Music.
The executive producers are Jon Favreau and Mike Gunton.
__________________
As an affiliate of Amazon and other cos, affiliate links on this blog allow us to earn income from qualifying actions (at no extra cost to you).

Prehistoric Planet: Apple TV+ Sets Premiere Date for Season 2 of Hit Docuseries