We're counting down the days until the US premiere of the third and final season of the brilliant British crime drama Happy Valley. The trailer is such a tease. Check it out!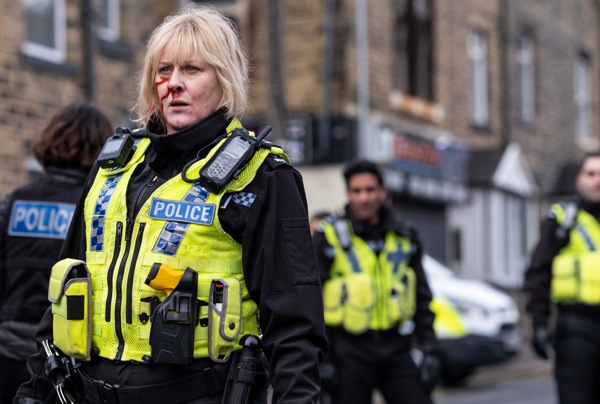 Happy Valley has deserved every award nomination and win (including four BAFTA TV Awards) it has received since it debuted nearly a decade ago. And for viewers who weren't already familiar with the outsized acting talent of series lead Sarah Lancashire, they became well aware from her superb performance as Yorkshire copper Sergeant Catherine Cawood.
Now here we are, roughly a month away from the US premiere of Happy Valley's third and final season. While fans on this side of the pond are waiting with bated breath for it, there's also that bittersweet feeling from knowing Season 3 is it. There will be no more drug crimes, no more Tommy Lee Royce, for Catherine to deal with after the series concludes.
For Catherine's sake, that's probably a good thing. This woman needs a serious break.
Happy Valley: Season 3 premieres in the US starting Monday, May 22, exclusively on Acorn TV, AMC+, and BBC America (at 10 PM ET/PT). New episodes will debut weekly on all three networks through June 26.
Set seven years after the events in Season 2, the final season sees Sgt. Catherine Cawood (Sarah Lancashire, Julia, Last Tango in Halifax) discovering the remains of a gangland murder victim, sparking a chain of events that unwittingly leads her straight back to murderer and rapist Tommy Lee Royce (James Norton, McMafia, Little Women).
Meanwhile, Catherine's grandson, Ryan (Rhys Connah, The Runaways), now sixteen years old, has ideas of his own about what kind of relationship he wants to have with Tommy, the man Catherine still refuses to acknowledge as his father. Still battling the seemingly never-ending problem of drugs in the valley and those who supply them, Catherine is on the cusp of retirement. Will she solve this final case?
For folks in the US who need/want to catch up on/rewatch Seasons 1 and 2, both seasons are available for streaming on Acorn TV and AMC+. In addition, BBC America will air a Season 1 marathon from Monday, May 8, through Wednesday, May 10, showing two back-to-back episodes starting at 11 PM ET/PT. The same two-episode scheduling applies to the Season 2 marathon, which will air Monday, May 15, through Wednesday, May 17, also starting at 11 PM ET/PT.
__________________
As an affiliate of Amazon and other cos, affiliate links on this blog allow us to earn income from qualifying actions (at no extra cost to you).

Happy Valley: Acorn TV Drops Trailer for US Premiere of Hit Crime Drama's Final Season