Ovation TV, America's premier arts network, recently signed deals with international distributors BBC Studios and DCD Rights for several British TV titles.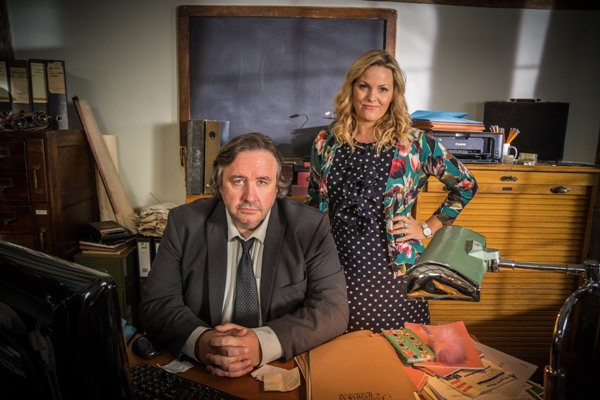 Ovation TV, home of the Mystery Alley FAST channel in the US, is adding more British TV titles to its linear and digital offerings. (Hooray!)
The network's deal with BBC Studios is for non-exclusive linear rights for two popular whodunit series: Death in Paradise and Shakespeare & Hathaway: Private Investigators.
The hugely popular Death in Paradise, set on the (fictional) Caribbean island of Saint Marie and featuring quirky, fish-out-of-water lead detectives, is going into its 14th season. The show has been airing on Ovation TV since October 2020, following the network's deal for the series' first six seasons. The most recent deal ups that to the first eleven seasons — which covers all of the British detective inspectors (to date) who investigate all manner of murders amidst the sun, sea, and sand of Saint Marie, after relocating there from the concrete jungle of London, including DI Richard Poole (Ben Miller, Professor T.) in Seasons 1-2, DI Humphrey Goodman (Kris Marshall, Beyond Paradise) in Seasons 4-6, DI Jack Mooney (Ardal O'Hanlon, Father Ted) in Seasons 6-9, and DI Neville Parker (Ralf Little, The Café) from Season 9 to the present. Ovation TV began airing new episodes of Death in Paradise on April 7 and will continue with its current schedule of 4-episode blocks starting at 7 PM ET on Friday evenings.
Shakespeare & Hathaway: Private Investigators stars Mark Benton (Waterloo Road) and Jo Joyner (EastEnders) as Frank Hathaway and Luella "Lu" Shakespeare; Frank is a hard-boiled private investigator with his own not-so-thriving business, and Lu is a cheerful hairdresser-turned-Frank's rookie sidekick-turned-business partner. This unlikely pair are quite an effective mystery-solving team, as they investigate a wide range of situations — from extramarital affairs and abducted au pairs, to murderous magicians and more — in Stratford-upon-Avon and Warwickshire. Shakespeare & Hathaway will begin airing in July 2023.
Ovation TV's deal with DCD Rights includes titles in the crime drama, art history, live performance, women's history, and travel docuseries genres, some of which will air on the linear network while others will be shown on Ovation's digital properties, including Arthouse, Mystery Alley, and JOURNY. The British TV titles include:
The Ascent of Woman: A 10,000 Year Story — Historian and author Dr. Amanda Foreman presents this four-part docuseries, which traverses countries and continents to uncover key stories of women that have made and changed human history from 10,000 BC to the present day. She visits archaeological sites, uncovers extraordinary women who created their own routes to power, explores the role of women in Asia under the philosophy religions of Confucianism and Buddhism, and looks at the role of women in revolutions that have transformed the modern world, from political uprisings to reproductive rights.
Can a Computer Make a Hit Musical? — In this two-part docuseries, scientists and musical theatre writers team up in a bold and bonkers experiment to test whether computers have the capacity to create a West End musical. By first formulating the recipe for a musical success, the team then task the computers to use this knowledge to generate a script, including the storyline, setting, lyrics, and musical composition. Will the computer's creation be fit for the West End stage?
Concrete Canvas — This ten-part series follows internationally renowned pavement artist Julian Beever around the world as he creates his unique 3D chalk drawings. A true master of his art, British artist Julian has become a global phenomenon after his trompe l'oeil works appeared on the internet, wowing art lovers across the world.
Jessie J: Alive at the O2 — In this special, recording artist Jessie J delivers an inspiring and incredible arena performance packed with international hits from her multi-platinum albums Who You Are and Alive. The concert, filled with positive pop, impressive vocals, flashy lights, flames, confetti, and a fabulous wardrobe, delivers hit after hit, including "Domino," "Laserlight," "Thunder," "Excuse My Rude," "Do It Like a Dude," "Price Tag," and "It's My Party."
Scottish Island with Ben Fogle — In this stunningly-shot four-part travelogue series, adventurer and author Ben Fogle sets out on a personal pilgrimage across Scotland's breathtakingly beautiful islands. To rediscover his own sense of spirituality, he braves the elements to sail from the magical Outer Hebrides to the wild Shetland Isles, finding remote clifftop hideaways, temple ruins, and secret beaches for cold water dips! Along the way, Ben encounters characterful locals who teach him how these ancient landscapes nurture values and beliefs as strong as the winds that blow across them.
The Story of Women & Art — In this three-part docuseries, historian and author Amanda Vickery explores the world of women and art. Following six to eight artists per episode, it takes viewers from the Renaissance period (when Lavinia Fontana was one of the few women to have a body of work in the Uffizi), through the 18th Century (when French artist Elisabeth Vigée le Brun had considerable commercial triumph and produced no less than a thousand paintings while also enjoying the patronage of Marie Antoinette), to the early 20th Century, the point at which women began to find parity in terms of training and education in the Arts.
Survival of the Species with Ben Fogle — This five-episode docuseries follows British broadcaster Ben Fogle as he explores some of the key issues around conservation in Africa. Exploring human and wildlife conflict, hunting, human impact, poaching, and endangered species such as the pangolin and rhinoceros, the series follows Ben as he aims to start a conversation about conservation while traveling to South Africa, Namibia, Uganda, Kenya, and Liberia.
Taggart — "There's been a murder." Arguably the most famous line in British TV crime dramas, it's from Taggart, the long-running (28 years), hard-hitting, action-packed Scottish detective drama series. Set in Glasgow, the show is named for the original lead character, quiet anti-hero copper DCI Jim Taggart (Mark McManus, Strangers), and kept the title after McManus's death in 1994. In the show's later seasons, the detectives who investigate cases ranging from corporate fraud to gangland drug warfare under DCI Matt Burke (Alex Norton, Two Doors Down) are DI Robbie Ross (John Michie, Holby City), DS/DI Jackie Reid (Blythe Duff, Maureen), and DC Stuart Fraser (Colin McCredie, River City). Ovation TV acquired 29 of the show's feature-length episodes.
__________________
As an affiliate of Amazon and other cos, affiliate links on this blog allow us to earn income from qualifying actions (at no extra cost to you).

Ovation TV Acquires Shakespeare & Hathaway, Taggart & More British TV Titles