Yowzah. We are in for a wild ride when Luther: The Fallen Sun arrives in select cinemas this month and on Netflix next month. Check out the intense trailer!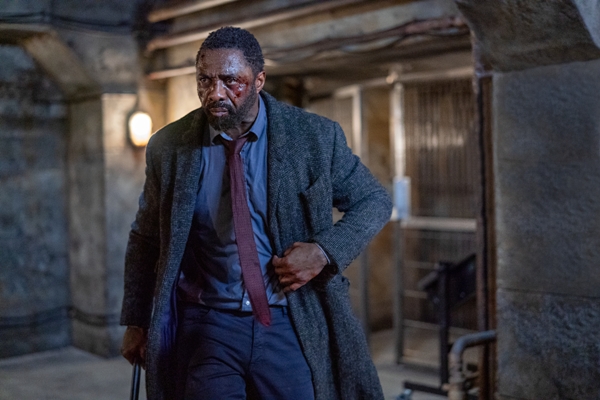 And you thought Alice was bonkers.
Say hello to David Robey, a tech millionaire, a sadist, and a serial killer — a murderer DCI John Luther didn't put away before he himself landed behind bars. Haunted by this failure, and now taunted by the cyber psychopath, Luther does what needs must: break out of prison to catch the psycho killer.
Reprising his role as DCI John Luther in this film sequel to the award-winning TV series Luther is Emmy® Awards nominee and Golden Globes award winner Idris Elba (Thor: Love and Thunder, Beasts of No Nation). Also returning is Dermot Crowley (The Wonder) as his Luther's former boss, DSU Martin Schenk.
Joining the Luther family are Grammy®, Tony®, and Emmy® Awards winner and Oscar® nominee Cynthia Erivo (Harriet, The Outsider) as DCI Odette Raine, a by-the-book inspector who basically has Luther's old job and finds herself Luther's unlikely ally, and Emmy® Awards nominee Andy Serkis (The Lord of the Rings trilogy, Andor) as David Robey.
Additional cast members include Thomas Coombes (Save Me), Hattie Morahan (The Undeclared War), Lauryn Ajufo (Tell Me Everything), and Vincent Regan (Before We Die).
Luther: The Fallen Sun, a Netflix Film, premieres globally on Friday, March 10, exclusively on Netflix. (You can set a reminder for it now.) It will also screen in select cinemas on February 24. (Check your local cinema guides for locations, dates, and times.)
__________________
As an affiliate of Amazon and other companies, ads & affiliate links on this blog allow us to earn income from qualifying actions and purchases (at no extra cost to you).

Luther: The Fallen Sun: Watch Idris Elba in Official Trailer for New 'Luther' Film