Netflix has announced Fool Me Once, its latest series adaptation of a Harlan Coben thriller.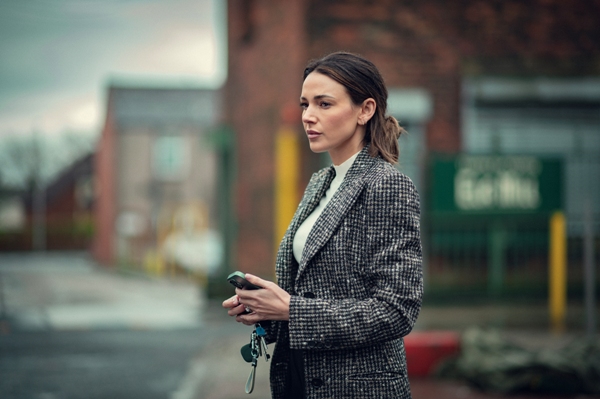 Fool Me Once marks the eighth on-screen adaptation from bestselling author Harlan Coben through his ongoing creative partnership with Netflix. The other seven international thrillers include Hold Tight (Poland), Stay Close (UK), Gone for Good (France), The Innocent (Spain), The Woods (Poland), The Stranger (UK), and Safe (UK).
Leading the cast of Fool Me Once are Michelle Keegan (Brassic, Our Girl), Adeel Akhtar (Sherwood, Sweet Tooth), Richard Armitage (Stay Close, The Stranger), and Joanna Lumley (Absolutely Fabulous, Finding Alice).
Set in the UK, the eight-episode thriller follows Maya Stern (Michelle Keegan), who is trying to come to terms with the brutal murder of her husband, Joe (Richard Armitage). But when Maya installs a nanny-cam to keep an eye on her young daughter, she is shocked to see a man she recognizes in her house: her supposedly dead husband.
Leading the homicide investigation into Joe's death is Detective Sergeant Sami Kierce (Adeel Akhtar), who is grappling with secrets of his own. Meanwhile, Maya's niece and nephew, Abby and Daniel, are trying to find out the truth about the murder of their mother, which happened several months earlier. Could these two cases be connected?
Joanna Lumley plays Judith Burkett, Joe's protective mother. Also featuring in the series are Emmett J. Scanlan (Kin, Peaky Blinders), Dino Fetscher (Years and Years, Foundation), Marcus Garvey (The Suspect), Hattie Morahan (The Undeclared War), James Northcote (The Last Kingdom), Dänya Griver (Malory Towers), Daniel Burt (A Very British Scandal), Adelle Leonce (A Discovery of Witches), Natalia Kostrzewa (Line of Duty), and Laura Gibbons.
A project of Quay Street Productions, Fool Me Once is created by Harlan Coben, scripted by lead writer Danny Brocklehurst (Brassic, Come Home), Charlotte Coben, Yemi Oyefuwa, Nina Metivier and Tom Farrelly, and directed by David Moore (Outlander, The Last Kingdom) and Nimer Rashed (The Good Karma Hospital). Harlan Coben, Danny Brocklehurst, Nicola Shindler, and Richard Fee are the executive producers, with Jessica Taylor (Happy Valley) the producer.
Said Harlan Coben:
"I'm thrilled and honoured to once again be collaborating with my uber-talented partners Danny, Nicola and Richard. 'Fool Me Once' will be our fourth Netflix series [following 'Safe,' 'The Stranger' and 'Stay Close'] together, and man, it never gets old! 'Fool Me Once' is a pulse-pounder — a shocking story of how secrets and deceit have the power to bring people together while simultaneously tearing them apart. I can't wait to see how this dream cast brings these characters to life."
Danny Brocklehurst stated:
"Following on from our smash hits 'The Stranger' and 'Stay Close,' 'Fool Me Once' does not disappoint. Harlan's books are storytelling genius and it's great to be entrusted once more in bringing his gripping stories of life. As always with our thrillers, expect twist upon twist and an emotional roller-coaster. Plus, the cast is phenomenal – audiences are in for a treat!"
And Nicola Shindler and Richard Fee, Executive Producers for Quay Street Productions, commented:
"Harlan is a master of twists and turns that are impossible to predict, which is what makes adapting his books for television impossible to resist! 'Fool Me Once' is no different, we're incredibly excited to bring the story to life with an all-star cast."
Filming on Fool Me Once has started in Manchester and the Northwest of England.
Stay tuned for updates.
__________________
As an affiliate of Amazon and other companies, ads & affiliate links on this blog allow us to earn income from qualifying actions and purchases (at no extra cost to you).

Fool Me Once: Netflix Announces Adaptation of Harlan Coben Thriller