One of the most highly-anticipated series premieres this month is that for Treason, the new British spy thriller starring Charlie Cox. Check out the trailer!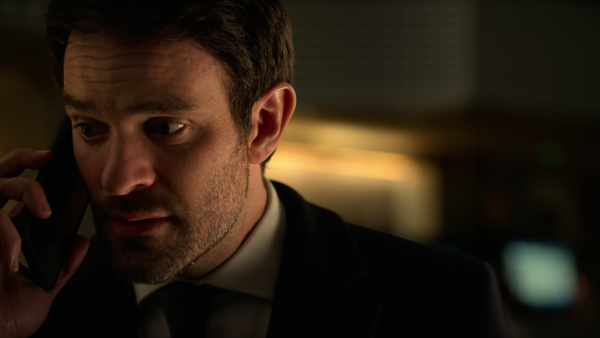 Pretty much any show featuring a lead character who works for MI6, the UK's foreign intelligence service, is going to include nefarious types doing awful things to said character and his/her/their intimates to get what they want. And so it is with Treason, the new spy thriller limited series from Netflix.
It stars Charlie Cox (Kin, Daredevil) as Adam Lawrence, an MI6-er whose career seems set. After an assassination attempt on Sir Martin Angelis (Ciarán Hinds, The Wonder, The Dry), the head of the service, lands the man in hospital, Adam is stepped up to the position and becomes the youngest head of MI6. But it soon becomes clear that all of this is a huge set-up.
Reappearing in Adam's life is Kara Yerzov (Olga Kurylenko, Quantum of Solace, Wonderland), a Russian spy with whom he shares a complicated past — and she wants more from him than catching up over a coffee. Now the past has officially caught up with Adam, and he is forced to question everything and everyone in his life, including whom he can trust (if anyone).
With Kara back in Adam's life, a triangular relationship forms between them and Adam's wife, Maddy (Oona Chaplin, Game of Thrones, The Hour) — three people who are trying to expose each other's secrets and navigate political and diplomatic relationships while hanging onto their personal lives and those they love most.
Treason, a Netflix Series, premieres globally on Monday, December 26, exclusively on Netflix. (You can set a reminder for it now.)
The cast of the five-episode thriller includes Tracy Ifeachor (Showtrial, Treadstone), Beau Gadsdon (The Crown, Domina), Adam James (Vigil, The Suspect), and Alex Kingston (A Discovery of Witches, Doctor Who), amongst others.
Written by showrunner and executive producer Matt Charman (Bridge of Spies), Treason is directed by Louise Hooper (The Sandman) and Sarah O'Gorman (The Witcher). Foz Allan, who produces the series along with Bryony Arnold, serves as executive producer alongside Valery Ryan.
__________________
As an affiliate of Amazon and other cos, affiliate links on this blog allow us to earn income from qualifying actions (at no extra cost to you).

Treason: Netflix Drops Trailer for New Spy Thriller Limited Series